3 Things to Do Outside of Rome
By Viator, May 2015
There's no denying that there's a lot to see and do in Rome, one of the most visited cities in the world. Once you've seen the world-famous sites, however, you may want to round out your trip with a few hours or even a full day away from the bustle of the big city. This is easy to accomplish with the following three trips to Rome's surrounding areas, each sure to enhance any vacation with the history and culture of this slice of Europe. Don't worry; you'll still be able to get back to Rome in time for dinner at yet another tasty trattoria.
Head away from the city's center by coach for the three-hour Catacombs and Roman Countryside Half-Day Walking Tour, which takes visitors along the ancient Appian Way with an expert local guide. Exploring the Catacombs and aqueducts away from the crowds will make it seem like the Eternal City is a world away, giving life to the area's rich Roman history.
If you're looking to stray even further from the museums and ruins of Rome, opt for the Tivoli Day Trip. Spanning history from the second century to the Renaissance, this guided trip takes visitors to two UNESCO World Heritage Sites, Hadrian's Villa and Villa D'Este. From archaeological ruins to the stunning Tivoli Gardens to wander through, this seven-hour adventure provides historical insight and breathtaking views, not to mention transport from Rome by air-conditioned coach.
A third option is the 12-hour Rome to Pompeii Shuttle Bus and Independent Day Trip, which ends with just enough time to still get you back to Rome at the end of the day. While the ride to Pompeii is three and a half hours long, this tour offers exclusive round-trip transportation by air-conditioned coach so you don't have to worry about getting around. Upon arrival in Pompeii, visitors can explore the well-preserved site as they wish and get a close-up look at history. Learn about the incredible events that led to Pompeii being an accessible (although mysterious) destination today, from wars to earthquakes to a massive volcano eruption.
These three tours provide the perfect sampling of hidden highlights away from the hub of the Eternal City.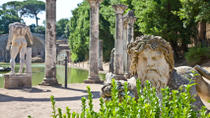 814 Reviews
Discover two UNESCO World Heritage Sites, Villa d'Este and Hadrian's Villa, on a guided full-day trip to Tivoli from Rome. You'll learn interesting Renaissance ... Read more
Location: Rome, Italy
Duration: 7 hours (approx.)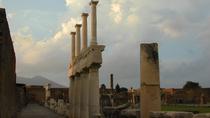 599 Reviews
Discover the UNESCO World Heritage site of Pompeii on this 12-hour independent tour from Rome and enjoy hassle-free round-trip travel by air-conditioned coach. ... Read more
Location: Rome, Italy
Duration: 12 hours (approx.)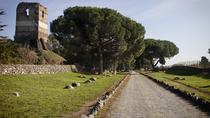 381 Reviews
Travel along Rome's ancient Appian Way and explore its ancient aqueducts, Catacombs and countryside on this 3-hour tour. Escape the city's hustle and bustle to ... Read more
Location: Rome, Italy
Duration: 3 hours (approx.)