Art in Rome
By Viator, May 2015
Michelangelo is considered one of Tuscany's most famous sons, but many of the masterpieces for which is he is best known are not found in Tuscany. In fact, Michelangelo spent much of his life in what is now the Italian capital of Rome, and you can see much of his artistic legacy in Rome today.

In his artistic youth, Michelangelo was held in local esteem by the ruling Medici family of Florence, but he was by no means an artistic legend by the time he arrived in Rome in 1496 at age 21. But the following year, he began work on a commissioned piece that would become one of his most celebrated sculptural works - the stunning Pieta, which now sits near the entry of St. Peter's Basilica in Vatican City.

The other Michelangelo masterpieces in Vatican City are his enormous frescoes in the Sistine Chapel. The ceiling was painted from 1508–1512, and the Last Judgement fresco behind the altar was painted from 1534–1541. Both are packed with details that are hard to understand without the help of a guide, and far easier to take in if you book a private tour of the Vatican Museums and the Sistine Chapel (otherwise you're limited on time and sharing the space with hundreds of other people).

Elsewhere in Rome, you can see a huge sculpture of Moses in the San Pietro in Vincoli church. It was intended for a tomb of Pope Julius II, but Julius II's successor gave Michelangelo other tasks to keep him from completing the tomb. Michelangelo was also an architect, and he is responsible for designing the Piazza del Campidoglio atop the Capitoline Hill. The odd shape of the space is made to look symmetrical thanks to an elliptical design in the pavement, and a reworking of the facades on the buildings surrounding it. He is also the architect of the dome of St. Peter's Basilica.
21031 Reviews
Visit the Vatican Museums, Sistine Chapel and St Peter's Basilica on this guided Vatican walking tour, in a group of no more than 20 people! See Raphael's ... Read more
Location: Rome, Italy
Duration: 3 hours (approx.)
1997 Reviews
See the highlights of the world-famous Vatican Museums in one morning on this intimate, small-group Vatican walking tour! Starting early in the morning to beat ... Read more
Location: Rome, Italy
Duration: 3 hours (approx.)
418 Reviews
See the Vatican like a VIP with a once-in-a-lifetime private Sistine Chapel viewing and tour of the Vatican Museum's secret rooms. The small-group tour gives ... Read more
Location: Rome, Italy
Duration: 3 hours (approx.)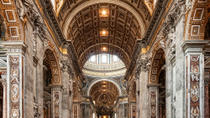 5581 Reviews
See the highlights of Vatican City with an expert guide, visiting the Vatican Museums, Sistine Chapel and St Peter's Basilica! After paying your entrance fee ... Read more
Location: Rome, Italy
Duration: 3 hours (approx.)
2020 Reviews
Use your skip-the-line Vatican Museums ticket to explore one of the world's greatest museum complexes at leisure! A veritable Aladdin's Cave, the Vatican ... Read more
Location: Rome, Italy
Duration: 3 hours (approx.)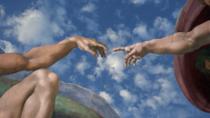 409 Reviews
What better way to see the Vatican than with your own private guide? Do just that on this 3-hour walking tour, and explore the Vatican Museums, Sistine Chapel ... Read more
Location: Rome, Italy
Duration: 3 hours (approx.)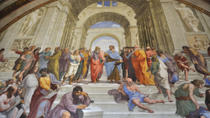 1099 Reviews
Enjoy a morning or afternoon of Vatican splendor on a 2-hours skip-the-line tour of the Vatican Museums, Sistine Chapel and St Peter's Basilica. Explore the ... Read more
Location: Rome, Italy
Duration: Varies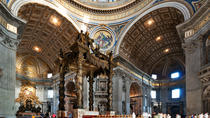 168 Reviews
See the best of St Peter's Basilica in Vatican City on a comprehensive 1.15-hour walking tour. Led by a knowledgeable Vatican guide, your tour starts with a ... Read more
Location: Rome, Italy
Duration: Varies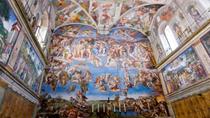 70 Reviews
Explore the art history of the Vatican Museums and St Peter's Basilica in style on a private walking tour with an art expert - and skip the queues. Accompanied ... Read more
Location: Rome, Italy
Duration: 3 - 3.5 hours