How to Get to Pompeii from Rome
By Viator, March 2016
Pompeii is one of the most popular tourist attractions in Italy - and with good reason. The trouble for many visitors is that most Italy itineraries don't get further south than Rome, and Pompeii is ideally a day trip from places like Naples, the Amalfi Coast, or Salerno (all of which are further south than Rome). But you can, if you play your cards right, do a day trip to Pompeii from Rome.

Getting to Pompeii from Rome is a two-step process. First, you'll need to take the train to Naples, and then change trains to the slower Circumvesuviana line that will take you to the excavation site at Pompeii. (The Circumvesuviana is in the same station as the main trains to and from Naples, so that part is easy - it's just in a different part of the station.)

From Rome-Naples on the high-speed train takes 1 hour 10 minutes, and then from Naples-Pompeii on the Circumvesuviana takes a little over a half-hour. You can catch an early train from Rome and be at the entrance to Pompeii with plenty of time to explore the site before retracing your steps for the journey home. It's definitely an investment in time, since you'll spend nearly four hours of your day in transit, but it beats missing out on the ruins of Pompeii completely.

Pompeii itself covers an enormous amount of land - it's rare that visitors see all of it, and certainly if you're limited by the train schedule to/from Rome you'll definitely need to have a focused itinerary through Pompeii. There are usually guides hanging around the entrance to the site waiting to be hired, but you're taking a chance that one will be available (and at the price you want to pay) when you arrive. Better to book a guided tour in advance - and, to avoid the hassle of dealing with train schedules and navigating Naples' central train station, book a tour that includes transportation to and from Rome. This way you'll get straight to Pompeii and get an expert guide with one booking.
3007 Reviews
Hike up Mount Vesuvius and then explore the UNESCO-listed ruins of Pompeii on a must-do day trip from Rome! Going at a steady pace, the hike includes a walk on ... Read more
Location: Rome, Italy
Duration: 13 hours (approx.)
2018 Reviews
Combine a trip to Naples with a tour of Pompeii's ruins on a full-day excursion from Rome! From the comfort of your coach, see the sights of Naples, admiring ... Read more
Location: Rome, Italy
Duration: 13 hours (approx.)
1722 Reviews
Take this incredible Rome day trip to the Amalfi Coast, and discover the dreamy coastal scenery that typifies this stunning area of southern Italy. Spend time ... Read more
Location: Rome, Italy
Duration: 14 hours (approx.)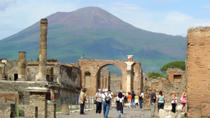 8 Reviews
Short on time but want to see Pompeii? This half-day tour from Rome is just the ticket to see the archaeological ruins at the UNESCO World Heritage site of ... Read more
Location: Rome, Italy
Duration: 7 hours (approx.)