Papal Audiences & Pope Tours
By Viator, June 2016
Witness the Papal Audience at Vatican City and hear the Pope's weekly message to the faithful. There's no better way to experience the wonder and magnificence of Vatican City.
General audiences with His Holiness are usually held every Wednesday in Vatican City. Tickets are free of charge but must be reserved. The price includes a presentation and explanation of the events of the Papal Audience to prepare you for the gathering. (An added benefit of booking with Viator - you get guaranteed tickets with allocated seating.)
Audience members are free to join in prayer with the Pope or simply to sit back and observe this amazing spiritual tradition. Both women and men are asked dress conservatively (T-shirts and flip-flops are frowned upon).
Papal Audiences: What to Expect

After meeting near St Peter's Square, you are provided with headsets and taken to your allocated seats. Your guide then explains the origin of the Papacy from the first Christians through Constantine's era and up to the current history of the Holy See. You'll also get an overview of St. Peter's Square (created by Bernini in the 17th century) and Vatican City itself.
917 Reviews
See the pope and his cardinals deliver their weekly address in Vatican City with a ticket to the papal audience. Follow a local guide through the crowds to a ... Read more
Location: Rome, Italy
Duration: 4 hours (approx.)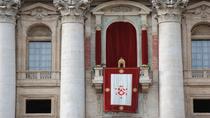 399 Reviews
Bookings are essential if you'd like to attend a Papal Audience with Pope Francis I at the Vatican. Tickets are free of charge but they are limited and you ... Read more
Location: Rome, Italy
Duration: 3 hours 30 minutes (approx.)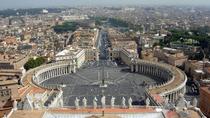 3 Reviews
With the election of Pope Francis I, the Papal Audiences have become a lively event in the Vatican State. Experience a live blessing by Pope Francis I while ... Read more
Location: Rome, Italy
Duration: 4 hours (approx.)