Rome Night Tours
By Viator, May 2015
After touring thousands of years of sights by day, sit back and relax to experience Rome's magic by night. Floodlit monuments like the Trevi Fountain and Colosseum are a spectacular sight, and an early-evening visit makes the ideal pre-dinner tour.

Rome flicks the switch to light up such essential sights as the Roman Forum, Casteel Sant-Angelo and St. Peter's Basilica. Piazza del Popolo is fringed with open-air cafes, and night-time revelers still flock to the famous Via Veneto, symbol of Rome's dolce vita (sweet life).

Combine an illuminations tour with dinner in Trastevere, or join an evening walking tour with a guide to lead the way and hear intriguing tales about Rome's floodlit sights.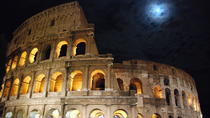 435 Reviews
Spend a magical night out on the town in Rome. Start your evening with a dinner in an area of town near the Trevi Fountain. Dine on traditional Italian cuisine ... Read more
Location: Rome, Italy
Duration: 4 hours (approx.)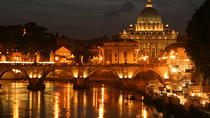 291 Reviews
There's nothing quite like Rome at night. On this illuminating evening tour, you'll be delighted as the sights of The Eternal City that amazed you by day ... Read more
Location: Rome, Italy
Duration: 2 hours 30 minutes (approx.)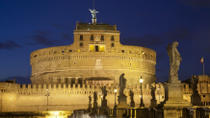 638 Reviews
Explore the heart of Italy's ancient capital and hear tales of myth and legend on this 1.5-hour ghost and mystery walking tour of Rome. When the sun sets, a ... Read more
Location: Rome, Italy
Duration: 90 minutes (approx.)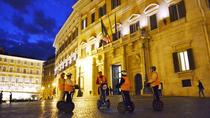 95 Reviews
Feel the unique atmosphere of Rome's historical places by night! On your 2.5-hour Rome Segway tour, glide through the city and visit all of Rome's most famous ... Read more
Location: Rome, Italy
Duration: 2 hours 30 minutes (approx.)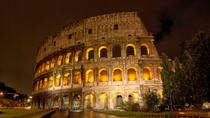 498 Reviews
Step back in time to the days of the Roman Empire on this 3-hour walking tour of Rome by night. Discover top city attractions such as the Trevi Fountain, ... Read more
Location: Rome, Italy
Duration: 3 hours (approx.)
463 Reviews
Sit back and relax on a 2-hour night sightseeing tour of Rome. While traveling by air-conditioned coach around Rome's 'centro storico,' Ancient Rome and ... Read more
Location: Rome, Italy
Duration: 2 hours (approx.)
152 Reviews
During the months of May until October, the Vatican stays open on Friday nights for an extra-special viewing of its renowned museums and the Sistine Chapel, ... Read more
Location: Rome, Italy
Duration: 3 hours (approx.)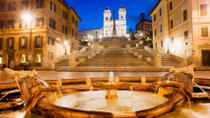 189 Reviews
See an illuminated Rome on a 2.5-hour nighttime sightseeing tour. Start by meeting you guide at Piazza di Spagna. Then, head off for a nighttime stroll around ... Read more
Location: Rome, Italy
Duration: 2 hours 30 minutes (approx.)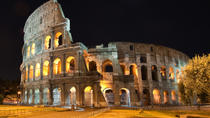 376 Reviews
See Ancient Rome and the Colosseum by night on this exciting 2.5-hour evening tour, led by an expert local guide! Hear little-known facts about the Roman ... Read more
Location: Rome, Italy
Duration: 2 hours 30 minutes (approx.)
100 Reviews
Enjoy a gourmet meal fit for a Roman Emperor, followed by a nighttime Colosseum tour on this must-do Viator VIP! The evening experience starts with a glass of ... Read more
Location: Rome, Italy
Duration: 3 hours 30 minutes (approx.)