See Rome by Bike
By Viator, April 2016
Want to see unique sights of
Rome
along with the major attractions in a fun and easy way? Try biking! You can get across the Eternal City faster than walking while avoiding car traffic and going to places vehicles aren't allowed. Rome has become more bike-friendly in recent years, which means touring the city this way now is better than ever before. Here are some amazing things you can do by bike in Rome:
Panoramic Bike Tour of Rome
You'll get some very special views of Rome on this tour across the hills that Rome is known for. From above the city, you can see the most important domes and monuments from a unique perspective. An experienced tour guide will lead you through parks and gardens such as the Garden of the Oranges for "the romantic view of Rome", and up the Aventine Hill, the Janiculum Hill, the
Capitoline Hill
and more. At the top of Aventine Hill you'll go to the site of an old palace and get to peek through the famous
Aventine Keyhole
which looks directly at  the dome of
St. Peter's Basilica
. Other highlights include panoramic views of the
Colosseum
and
Roman Forum
. You'll also pass
Castel Sant'Angelo
(Mauseleum of Hadrian), Navona Square and the
Pantheon
.
Rome City Bike Tour
Discover must-see attractions in Rome's Historic Center while along with some of the secret small streets and alleyways most tourists never see. You will leisurely ride past the traffic to see sights like the Colosseum, the
Trevi Fountain
and the
Spanish Steps
. You will bike through the secret passageways of ancient walls, stopping for photo opportunities, and take a tour through the Pantheon, one of Rome's best-preserved ancient monuments. See an unusual view of the Colosseum from atop Fagutal Hill and cross the bridge to Tiber Island, connected to the mainland by the Ponte Fabricio, which is the only original bridge left in Rome. It's a fun and relaxed introduction to Rome's well-known and secret monuments.
Ancient Appian Way, Catacombs and Roman Countryside Bike Tour
If you want to escape the crowded city and experience Rome's surroundings as an ancient Roman would have, this is the perfect way. It has long been said that all roads lead to Rome, and with this tour you can travel along
Via Appia
, the 2,300 year-old cobble-stone path into the city, while seeing ancient ruins and beautiful landscapes along the way. This tour includes a guided visit of the Catacombs of San Callisto, which contains frescoes from the beginning of Christian history, and a break at the lovely Caffarella Park for a cheese and wine aperitif. You'll see many other sights including Trajan's Thermal Baths, the Aurelian Walls and aqueducts.
Read more about each of these tours and see what customers have had to say about them to decide which one is right for you. All of these tours are suitable for all ages and most levels of fitness. So if you're ready to discover Rome, book a bike tour!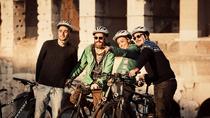 749 Reviews
Enjoy the best of Rome on a four-hour bike tour with a local guide. Cycle through Rome, discovering its ancient monuments, fancy shopping streets, beautiful ... Read more
Location: Rome, Italy
Duration: Summer Tours: 3.5 hrs
Winter Tours: 4 hrs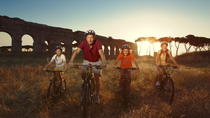 263 Reviews
Explore rural Italy and discover ancient Roman ruins on this 6-hour Appian Way, catacombs and Roman countryside electric bike tour. Cycle the ancient Appian ... Read more
Location: Rome, Italy
Duration: 6 hours (approx.)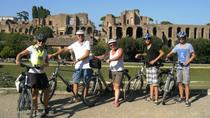 68 Reviews
See the sights of the Eternal City on a full-day electric bike tour, with a pizza or pasta lunch, wine and a gelato stop included! Easy and safe to ride, the ... Read more
Location: Rome, Italy
Duration: 7 hours (approx.)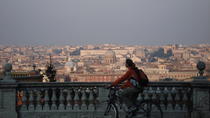 39 Reviews
Enjoy panoramic views of the Italian capital on this 5-hour electric bike tour of Rome. Follow a guide and climb Aventine, Capitoline, Janiculum and Palatine ... Read more
Location: Rome, Italy
Duration: 5 hours (approx.)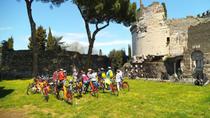 11 Reviews
Enjoy a 6-hour cycle ride from central Rome towards the countryside and see the Appian Way from the saddle of a comfortable bicycle. Experienced guides will ... Read more
Location: Rome, Italy
Duration: 6 hours (approx.)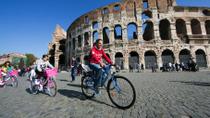 Rent your trekking bike for two full days and discover the monuments and landmarks of Rome. Have the full freedom to see and do exactly what you like.
Location: Rome, Italy
Duration: 2 days (approx.)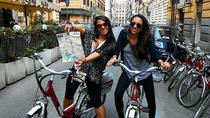 Exploring the eternal city by bike is the best way to make the most of its beauty. You can reach hidden places and enjoy the beautiful natural parks away from ... Read more
Location: Rome, Italy
Duration: 12 hours (approx.)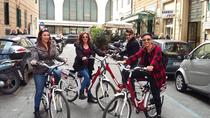 Rent an electric bike and make your way around Rome with minimum effort. Offering an eco-friendly way to explore, an e-bike allows you to cover more ground, ... Read more
Location: Rome, Italy
Duration: 6 or 12 hours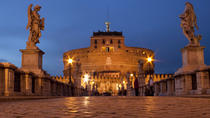 Discover Rome's timeless beauty in a fun and entertaining manner with this 3.5-hour small-group bike tour at night. The Eternal City's illuminated evenings are ... Read more
Location: Rome, Italy
Duration: 3 hours 30 minutes (approx.)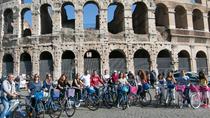 2 Reviews
Discover top attractions in Italy's ancient capital on this 1-day bike tour of Rome. Pedal through the city streets as a guide sheds light on Rome's colorful ... Read more
Location: Rome, Italy
Duration: 6 hours (approx.)