Whakarewarewa (The Living Maori Village)
Whakarewarewa, the Living Maori Village, provides an opportunity for visitors to experience the culture and traditions of the Tuhourangi/Ngati Wahiao people. Travelers have made their way to this living geothermal Maori village since the early 1800s, and it's here that they can witness how the local people prepare and cook their food in thermal vents using steam and also get the chance to sample the traditional hangi meals onsite.  
A highlight of any visit to Whakarewarewa is Maori Haka, a cultural performance that harmonizes traditional songs of Maori stories and legends, shared by welcoming Whakarewarewa tour guides. These iconic shows run twice daily and are set against the backdrop of the geothermal valley, with its geysers, hot pools, and bubbling mud providing a unique story-telling experience.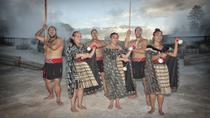 8 Reviews
Enjoy an authentic Maori cultural experience at Whakarewarewa, The Living Maori Village set in the geothermal region of Rotorua. A local guide takes you on a ... Read more
Location: Rotorua, New Zealand
Duration: Flexible