Kinderdijk Tours
Located just 10 miles outside of Rotterdam is Kinderdijk, one of the most authentic tourist destinations in the Netherlands. The village, located on the Alblasserwaard polder at the confluence of the Lek and Noord rivers, is home to 19 windmills that were built around 1740 to help control water and reclaim the land on which the polder sits. One of the best times to visit is during early September when for one week, the windmills are lit up each night from 8:30 to 11:30pm.
Kinderdijk was designated a UNESCO World Heritage site in 1997, in recognition of the contributions made by the Dutch to the technology of handling water here. Kinderdijk has examples of all the typical features associated with water-management technology, including dykes, reservoirs, pumping stations and the original windmills. A visit allows you to walk along the canals, up close to the windmills, many of which are still operational. For an admission fee, you can also enter one and visit the Museum Windmill Nederwaard, where you can experience how the windmill works, meet a miller and climb up to the top for great views.
Another popular stop in Kinderdijk is the visitors' center at the Wisboom Pumping Station. This former steam-powered pumping station houses a café and gift shop, as well as an educational film on Kinderdijk. And if you're just interested in seeing the windmills, there are options for walking, hiking, and cycling the paths around them, including an official cycle route that takes you along all 19 windmills.
Practical Info
While it is always possible to walk along the canals and see the windmills, the visitors' center and museums are only open daily from 11am to 4pm. The center and museums are closed from December 31 until the season reopens in mid-February. A ticket includes admission to the Museummill Nederwaard and to the 12-minute film about Kinderdijk in the visitors' center at the Wisboom Pumping Station.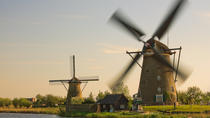 5 Reviews
Explore UNESCO world heritage Kinderdijk and the town of The Hague, choose between; Dutch paintings from the Golden Age, Modern art by Monet and Mondrian or ... Read more
Location: Amsterdam, Netherlands
Duration: 9 hours (approx.)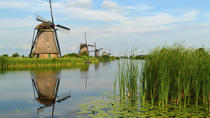 1 Review
Explore a different side of the Netherlands with this private 7-hour trip to Kinderdijk, Rotterdam, and the Hague. Get picked up at your hotel and get personal ... Read more
Location: Amsterdam, Netherlands
Duration: 7 hours (approx.)