The second-largest copper producer in the United States, Kennecott has produced more copper than any other mine, topping 19 million tons.
We all learned about copper in science class, but few people realize how much we depend on the element in our day to day lives. Copper is used in a seemingly endless list of things including electrical wiring, computer keyboards, cell phones, gold jewelry, hot water heaters and coin making. Utah's Kennecott Copper Mine, also known as Bingham Canyon Mine, has been in operation for more than 100 years. 
The mining pit is more than three-quarters of a mile deep and more than two and three-quarter miles wide across the top. It is still growing and is said to be visible from space. 
Practical Info
The Visitors Center is closed until further notice. Even though you can't go to the mine itself, you can head up into the Oquirrh Mountains on tours for a bird's-eye view from 9,000 feet elevation. As you look down at the open mine pit, you'll be able to watch as trucks the size of two-story houses move the newly blasted rock. Kennecott is located less than 30 miles southwest of Salt Lake City.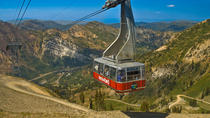 5 Reviews
See Rocky Mountain Wildlife! Little Cottonwood Canyon is one of the most popular places for sightseeing and photos in the Wasatch Mountains. Take the tram ... Read more
Location: Salt Lake City, Utah
Duration: 3 hours (approx.)