Brazil's third-largest city, Salvador da Bahia, is perfectly situated for taking advantage of some of the country's most spectacular scenery, from idyllic beachfronts to historic villages.

A scenic drive from Salvador takes you to the beautiful Atlantic coast of Praia do Forte, an ideal destination boasting stunning beaches fringed with swaying palms. Spend the day soaking up the rays and cooling off in the limpid water, or visit some local inhabitants in the Tamar Project, a sea turtle conservation program.

Travel even further north and you come to the delightful fishing village of Mangue Seco. Urban stress is far behind as you stroll dazzling white dunes, explore mangrove swamps or idle away a couple of hours in a local restaurant, feasting on fresh seafood.

Up and down the Atlantic coast you can explore bays, inlets and islands. The sheltered Bay of Camamu, south of Salvador, boasts the gorgeous tropical island of Tinharé. Life moves at a slower pace here, with no cars and only a few tractors to take visitors between beaches. You can spend the day swimming, or maybe you'd prefer to explore the historic village of Morro de Sao Paulo.

More history awaits in the beautifully preserved village of Cachoeira, within easy reach of Salvador. The churches and houses here represent some of the best colonial architecture you'll see in Brazil, including outstanding examples of richly decorative Baroque. There's also time to visit a traditional cigar factory.

Even closer at hand is Baía de Todos os Santos, Salvador's aquatic playground. Spending a day in, on and around this protected bay is the perfect contrast to busy city life. Head out on a schooner and then choose your own adventure: swimming off the Ilha dos Frades or horse riding on Itaparica? It's all possible in this tropical wonderland on Salvador's doorstep.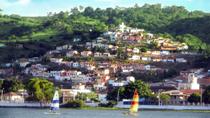 1 Review
Cachoeira is an historical and cultural city located 2 hours away from Salvador. Learn a lot with our cultural specialist guide. This full day tour including ... Read more
Location: Cachoeira, Brazil
Duration: 10 hours (approx.)