Austrian Lake District Tours
Affectionately known as the Austrian Lake District, Salzkammergut is one of Austria's premiere holiday destinations, featuring crystal clear lakes, picturesque hillsides, and quaint yet fantastic villages.
Those travelers with a penchant for athleticism best utilize these majestic grounds—with seemingly endless opportunities at every turn—including mountain biking or hiking on one of many trails (for all levels of endurance), swimming, skiing, the list doesn't end. There is even an opportunity for the adventurous traveler to soar 5,000 feet (1,524 meters) over the valley with an available paragliding site, the Krippenstein.
Another worthwhile destination in the Lake District is the Dachsteinwelterbe Cave World at Obertraun, with three natural show caves, going as far as 3,200 feet (975 meters) deep, the three ice-caves are amongst the largest in the world and are considered to be one of Austria's most important natural sites.
With a plethora of modern amenities and resorts to accommodate almost any need, Salzkammergut is complete with a healthy selection of easily accessible housing, shops, bars, and restaurants.
Practical Info
The most efficient way to get in is through the historic town of Hallstatt. Buses and trains are both cheaper available options, although if you are coming from anywhere other than Salzburg, these modes of transport will require changeovers.
78 Reviews
Combine two popular Salzburg tours and enjoy a full Salzburg experience! With your professional guide, spend time in the Austrian Alps experiencing the ... Read more
Location: Salzburg, Austria
Duration: 9 hours (approx.)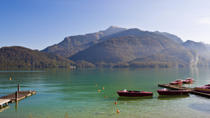 155 Reviews
On the Austrian Lakes and Mountains Salzburg Sightseeing Tour, experience the breathtaking beauty of one of Austria's most beautiful regions - the Lake ... Read more
Location: Salzburg, Austria
Duration: 4 hours (approx.)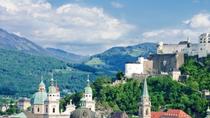 63 Reviews
This afternoon tour starts with a panoramic tour of Salzburg which will provide you with an opportunity to see as many historical and cultural highlights as ... Read more
Location: Salzburg, Austria
Duration: 5 hours (approx.)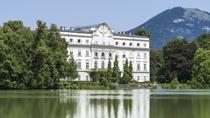 21 Reviews
Visit 'The Sound of Music' film locations, enjoy breakfast in a Rococo castle and learn about the real-life Von Trapp family on this private Viator Exclusive ... Read more
Location: Salzburg, Austria
Duration: 6 hours (approx.)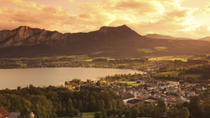 5 Reviews
Soak in the tranquil beauty of the lovely Austrian Lake District (Salzkammergut) on this private tour from Salzburg. See famous lakes including Wolfgangsee and ... Read more
Location: Salzburg, Austria
Duration: 4 hours (approx.)