There's so much to do in and around Salzburg, from attending classical concerts to visiting romantic castles or exploring salt mines and ice caves, ski-ing in winter and hiking through the staggering natural beauty of the Alps in summer. Or how about visiting the house of one of the most evil figures of the 20th century?

If you're short on time in Salzburg, take the half-day's option of visiting Eagle's Nest, travelling through the fairy-tale mountains of Obersalzberg, but for an action-packed summer day of discovery, combine three of Salzburg's most popular tours and save money into the bargain. Set off by coach from Salzburg and cross the German border into the Obersalzberg region of the Bavarian Alps, where Hitler's infamous summer retreat at Eagle's Nest stands atop the rocky crag of Kehlstein.

Squatting at 6,600 feet (2,011 m) above sea level, Eagle's Nest was a 50th birthday present to Hitler from Nazi Party supremo Martin Bormann and it has been open since 1952 as a mountain restaurant with panoramic views across the Alps. The restaurant is accessible by an ingenious tunnel and elevator up the steep rocky sides of Kehlstein or by a road virtually carved out of the hillside.

Have lunch up at Eagle's Nest, visit the small gift shop and drink in the views before setting off for the 450-year-old salt mines near Berchtesgaden. There are several salt mines around Salzburg and they played an important part in bringing wealth into the city. Dress as a miner to explore the spectacular grottos deep underground, take a raft ride across the eerie subterranean salt lake and journey around it on a mini electric train. Afterwards tour the picture-perfect Bavarian village of Berchtesgaden, with its cheerily painted Baroque old town. To wrap up your day out in Bavaria, make a final stop at Königssee (the King's Lake) to take photos before returning to Salzburg.
214 Reviews
On this Salzburg Super Saver, three popular tours become one memorable Bavarian Alps adventure, offering you great value for money. With your professional ... Read more
Location: Salzburg, Austria
Duration: 9 hours (approx.)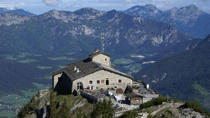 401 Reviews
Visit Kehlsteinhaus, better known as the Eagle's Nest, on a half-day tour from Salzburg. Journey through the spectacular scenery of Königsee River Valley ... Read more
Location: Salzburg, Austria
Duration: 4 hours 30 minutes (approx.)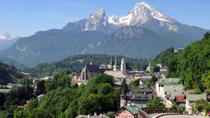 14 Reviews
Discover the breathtaking views from the Eagle's Nest (Kehlsteinhaus) in the Bavarian Alps on this private tour. Traveling from Salzburg, pass picturesque ... Read more
Location: Salzburg, Austria
Duration: 5 hours (approx.)