Salzburg RECOMMENDATIONS See all
Ways to Celebrate Christmas in Salzburg
By Viator, October 2017
No reviews, be the first!
With traditional markets, a festive feel, and a historic, UNESCO-listed city center, Salzburg is one of the best places in Austria for celebrating the holidays. Here are some activities to make sure you have the merriest Christmas while visiting.
See the Salzburg Christmas Markets
When winter descends and the festive Christmas season comes around, both locals and travelers come to Salzburg to celebrate. At Hellbrunn, St. Jakob am Thurn, and St. Leonhard markets, traders sell traditional handicrafts amid the scent of mulled wine, roasted chestnuts, and hot waffles. Walking tours take travelers through the streets and stalls—past top attractions such as 17th-century Hellbrunn Palace—with guides on hand to offer insight into centuries of rich Austrian history.
Take a Horse-Drawn Sleigh Ride
For a true taste of the festive season in Salzburg, a horse-drawn sleigh ride is hard to beat. Opt for a day trip along the Salzach River Valley and climb 3,281 feet (1,000 meters) to the Alpine mountain of Dachstein for a sleigh ride, or get led to traditional villages such as Faistenau or Ramsau for views of the wintry scenery.
Head to the Silent Night Chapel
If you're looking for a truly unique holiday experience, the Silent Night Chapel offers the best of Christmas in Austria. Choose a tour from Salzburg that takes you through the foothills of the Austrian Alps to the quaint town of Oberndorf, on the banks of the Salzach River, where the historic Silent Night Chapel awaits. On arrival, stroll the Christmas markets and browse for souvenirs, then, take part in a Christmas Eve mass in the chapel—built in honor of the Christmas carol "Silent Night" and its composer, Franz Xaver Gruber.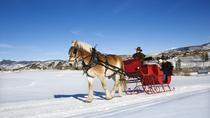 36 Reviews
Spend an afternoon in Austria's fairy tale winter wonderland on a private horse-drawn sleigh ride through the picturesque countryside around Salzburg. This ... Read more
Location: Salzburg, Austria
Duration: 3 hours (approx.)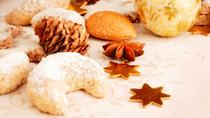 1 Review
Experience hands-on cooking of Austrians' most popular cookies and dessert. During your lesson, you will be given the opportunity to cook on your own while ... Read more
Location: Salzburg, Austria
Duration: 75 minutes (approx.)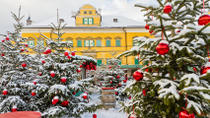 36 Reviews
Spend a festive afternoon visiting three of the most traditional and atmospheric Christmas markets around the Salzkammergut, the picturesque countryside of ... Read more
Location: Salzburg, Austria
Duration: 5 hours (approx.)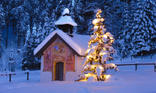 34 Reviews
Spend an unforgettable Christmas Eve in Salzburg on this tour to the Silent Night Chapel. From the city of Salzburg, travel through the breathtaking foothills ... Read more
Location: Salzburg, Austria
Duration: 4 hours (approx.)
100 Reviews
Enjoy a quintessential Christmas experience on a horse-drawn sleigh ride in a tiny village near Schladming during this day trip from Salzburg. Travel along ... Read more
Location: Salzburg, Austria
Duration: 8 hours (approx.)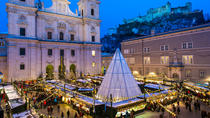 4 Reviews
Join us for a little pre-Christmas flair in the historical city center and learn interesting facts about the Salzburg Christmas market or our local Alpine ... Read more
Location: Salzburg, Austria
Duration: 90 minutes (approx.)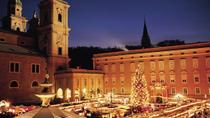 Experience the magic of an Austrian Christmas on a 2-night winter getaway in Salzburg. Spend two nights at a luxurious 4-star hotel in the heart of the ... Read more
Location: Salzburg, Austria
Duration: 3 days (approx.)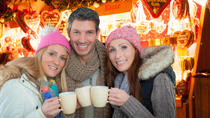 Experience the magic of Austria at Christmastime on a private tour of Salzburg's Christmas markets. Your guide will help you get the most from your visits to ... Read more
Location: Salzburg, Austria
Duration: 4 hours (approx.)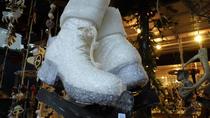 With its traditional flair and ambiance the Salzburg Christmas Market is the perfect setting to get in the mood for Christmas.Beautiful Cathedral Square, the ... Read more
Location: Prague, Czech Republic
Duration: 12 hours (approx.)