10 Reviews
Address:

La Jolla, California 92037, USA

Hours:

Open daily

Admission:

Free
La Jolla Tours
Immaculately landscaped parks, white-sand coves, upscale boutiques, and cliffs above deep, clear blue waters make it easy to understand why La Jolla translates from Spanish as "the jewel."
La Jolla Village sits atop cliffs overlooking the Pacific Ocean on three sides. Girard Avenue and Prospect Streets are where you'll find some of San Diego's best restaurants and certainly its best boutique shopping. For a bit of old La Jolla, head to the La Jolla Historical Society and check out the vintage photos and beach memorabilia. La Jolla's Museum of Contemporary Art San Diego gets ever-changing world-class exhibitions.
Outdoor enthusiasts will have plenty to indulge in at La Jolla. A wonderful walking path skirts the shoreline, beginning at the Children's Pool, where a jetty protects the beach from big waves. You can watch sea lions up close as they lounge on the shore. Atop Point La Jolla, at the path's eastern end is Ellen Browning Scripps Park, a tidy expanse of green lawns and palm trees. The area north of northeast of here is simply called "The Shores." This is the spot where La Jolla's cliffs meet the wide, sandy beaches north to Del Mar.
Practical Info
La Jolla lies 20 minutes northwest of San Diego, along Interstate 5. A bus takes you from downtown and stops at many sights en route. The surrounding area is home to the University of San Diego and several research institutes. There is plenty of shopping and restaurants in the Village, so plan on spending an afternoon here, longer if you're staying for dinner.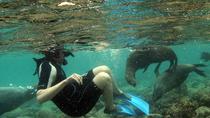 1 Review
Snorkeling is rated top 10 things to do in La Jolla. Join this tour of the cove and caves for an amazing adventure! It's perfect for beginners, adults, and ... Read more
Location: San Diego, California
Duration: 2 hours (approx.)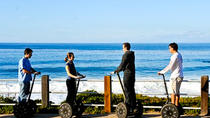 2 Reviews
Enjoy a 2-hour guided segway tour including La Jolla Cove, La Jolla Village (otherwise known as La Jolla Prospect or Downtown La Jolla), beautiful La Jolla ... Read more
Location: San Diego, California
Duration: 2 hours (approx.)
6 Reviews
Learn to surf in one of Southern California's most beautiful settings – La Jolla Shores. Qualified and encouraging instructors teach year-round surf lessons at ... Read more
Location: San Diego, California
Duration: 90 minutes (approx.)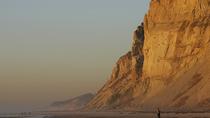 1 Review
Experience the beach culture along this 29-mile, 7-hour tour of the most scenic beaches and attractions along the north county coastline of San Diego.
Location: San Diego, California
Duration: 7 hours (approx.)
La Jolla Shores in San Diego is the perfect setting to learn the invigorating and fun sport of stand-up paddleboarding. Great instructors and easy-to-use ... Read more
Location: San Diego, California
Duration: 90 minutes (approx.)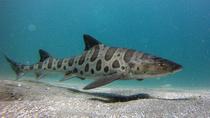 1 Review
On this La Jolla shark tour, you will encounter Leopard Sharks and other marine wild life. This guided tour is available daily during the spring, summer and ... Read more
Location: San Diego, California
Duration: 2 hours (approx.)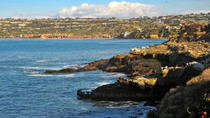 Take in the incredible views on this thrilling segway ride, pushing maximum speed. This tour is all about enjoying quick, open-air riding and amazing scenery. ... Read more
Location: San Diego, California
Duration: 2 hours (approx.)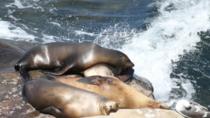 Enjoy a 3-hour tour of La Jolla, a world-class destination with shimmering beaches, dramatic ocean views and timeless landmarks. Experience the beach culture ... Read more
Location: San Diego, California
Duration: 3 hours (approx.)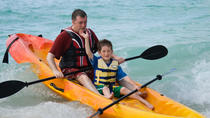 76 Reviews
This popular kayak tour will allow you to kayak the La Jolla sea caves and ecological reserve, which boasts an amazing array of scenery and wildlife you can't ... Read more
Location: San Diego, California
Duration: 2 hours (approx.)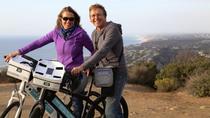 19 Reviews
On this 2.5-hour guided tour you'll use powerful electric bikes to meander through the sun-soaked hills of Mount Soledad, San Diego's highest coastal point ... Read more
Location: San Diego, California
Duration: 2 hours 30 minutes (approx.)