San Diego is a great town, but few would argue that its charms are tied intricately with the sea. The sparkling Pacific defines San Diego's weather, its commerce as a port town, and helps generate millions of dollars a year in tourism revenue. The Pacific is as much a part of the San Diego culture as the Padres, the naval yard, the Gaslamp Quarter, or the famous Balboa Park – so what better way to enjoy this glittering coastal city than with a tour of its magnificent harbor? Whether for a special occasion or just for getting your bearings on your host city – the San Diego harbor cruises offer some of the best of the city wrapped up in a nice tight bundle. See for yourself what makes San Diego special by spending some time on this often overlooked scenic waterway by harbor cruise.
Luxuries are best reserved for vacation, and if you're visiting San Diego for the first time, consider jumping aboard a Luxury Dinner Cruise with Window Seating and Champagne. A tour that's exclusive to Viator, you'll receive a gourmet 2-course meal while exploring the skyline of the city. Celebrate with champagne and dancing after dinner, and then enjoy the serenity of a cloudless night under the San Diego stars.
Or, if you must make an impression, consider taking the dinner cruise at sunset – there's little more romantic than looking back on your host city with the salt wind in your hair and champagne in your hand. This option is perfect for couples!
But, if the prospect of a 3-course meal isn't appealing, consider a nighttime cruise to see San Diego's skyline when it's all lit-up. A unique way to explore San Diego and its waterways, you'll enjoy a nightcap and precious views of San Diego aboard a 36-foot sailing yacht while appreciating San Diego at arm's length. You'll see for yourself why San Diego is truly a charming seaside town.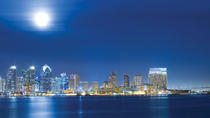 40 Reviews
Soak up the San Diego skyline in luxury and style on this relaxing dinner cruise, a Viator Exclusive that can't be booked anywhere else! As you travel along ... Read more
Location: San Diego, California
Duration: 3 hours (approx.)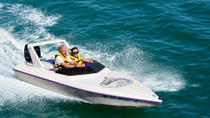 36 Reviews
Experience the thrill of driving your own speed boat on a guided and narrated tour around San Diego's Harbor. You'll navigate and captain your own speed boat ... Read more
Location: San Diego, California
Duration: 2 hours (approx.)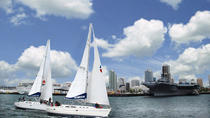 37 Reviews
Set sail from San Diego on this small-group sailing tour! This three-hour adventure on a Catalina-style sailboat is limited to just six people, allowing you a ... Read more
Location: San Diego, California
Duration: 3 hours (approx.)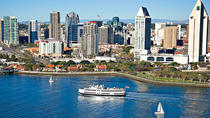 34 Reviews
There's no better way to relax and enjoy San Diego! Take in the sights, listen to relaxing music, linger in the sun and visit the captain. Indulge in a lavish ... Read more
Location: San Diego, California
Duration: 2 hours (approx.)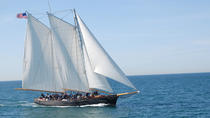 27 Reviews
Jump on board the world-famous America sailing schooner for a once-in-a-lifetime whale watching experience. The only whale-watching sailing trip in San ... Read more
Location: San Diego, California
Duration: 4 hours (approx.)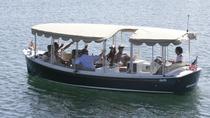 12 Reviews
Silently cruise the calm waters of Mission Bay aboard our luxurious 2014 Bay Island Duffy electric boat. On board enjoy a feast of artisan cheese and a ... Read more
Location: San Diego, California
Duration: 90 minutes (approx.)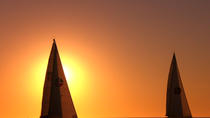 9 Reviews
Set sail from San Diego on this small-group sailing tour on a sunset sail on the open ocean. This three-hour adventure on a Catalina-style sailboat is limited ... Read more
Location: San Diego, California
Duration: 3 hours (approx.)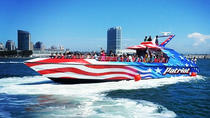 8 Reviews
A boat ride on San Diego Bay is lovely, but an exhilarating ride on a dual-engine jet boat is an experience to remember. Zoom around the bay, enjoying views of ... Read more
Location: San Diego, California
Duration: 30 minutes (approx.)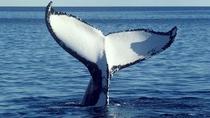 4 Reviews
Get up close and personal with dolphins, sea lions, pelagic sea birds and migrating whales on this three-hour eco-friendly cruise through the waters of San ... Read more
Location: San Diego, California
Duration: 3 hours 30 minutes (approx.)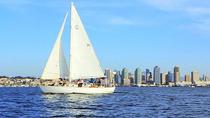 4 Reviews
Set out on a private, relaxing 2-hour sailing excursion from San Diego on a fully restored, 36-foot (11-meter) Cal Jensen yacht. Sail past the Maritime Museum ... Read more
Location: San Diego, California
Duration: 2 hours (approx.)