The coastal city of San Diego is a main stop on the migratory patterns of gray, blue, and humpback whales as they make their way from Alaska to Baja California and Mexico each year. Here's how to witness some of the 25,000+ whales that make the trip annually.
When to Go
Whale-watching tours run from January to April during the peak season for sightings, although enormous blue whales can be seen throughout the year and into summer. San Diego may be famous for its warm weather, but it's best to wear layers to protect from wind and water while out on the boat.
What You'll See
Gray whales and humpbacks can often be seen with their small calves in tow, while the enormity of the blue whale's spout alone is worth seeing. Whale-watching cruises often also encounter dolphins, sea lions, seals, and other marine life off the San Diego coast.
How to Go
Tours typically depart from San Diego Harbor, one of the best places to take a whale-watching excursion in Southern California. It's best to avoid caffeine in advance of your outing and take precautions to prevent sea sickness. Customize your trip by choosing a whale-watching tour by sailboat, a kayaking adventure from La Jolla Cove, or a wildlife boat tour guided by a marine biologist from the Birch Aquarium.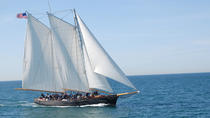 39 Reviews
Jump on board the world-famous America sailing schooner for a once-in-a-lifetime whale watching experience. The only whale-watching sailing trip in San ... Read more
Location: San Diego, California
Duration: 4 hours 30 minutes (approx.)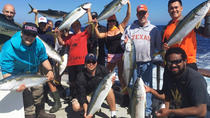 Fish for yellowtail, bass, or a variety of game fish off the coast of California on this half-day angling excursion from San Diego. Cruise along San Diego ... Read more
Location: San Diego, California
Duration: 5 hours 30 minutes (approx.)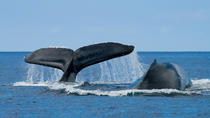 48 Reviews
See magnificent California gray whales on their annual journey from the Arctic to California's Baja Coast on a whale watching cruise from San Diego. If you ... Read more
Location: San Diego, California
Duration: 3 hours 30 minutes (approx.)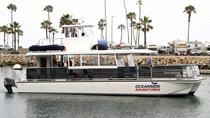 2 Reviews
Your guide will tell you about the history of Oceanside as you travel to see marine life. Your boat is equipped with dolphin and whale information, fun ... Read more
Location: Oceanside, California
Duration: 2 hours (approx.)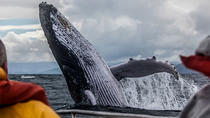 2 Reviews
Get up close and personal with California's majestic Pacific Gray Whales during this 3-hour whale-watching excursion from San Diego.
Location: San Diego, California
Duration: 3 hours (approx.)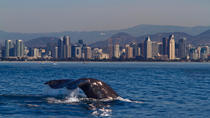 Every year during the winter months, California Grey Whales migrate from the frigid waters of Alaska to the more temperate waters off the coast of Baja ... Read more
Location: San Diego, California
Duration: 3 hours 30 minutes (approx.)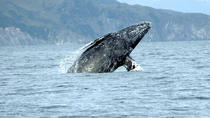 San Diego is the ideal location to watch Pacific Gray Whales as they migrate from the Bering Sea to the lagoons of Baja California to mate and give birth. ... Read more
Location: San Diego, California
Duration: 4 hours (approx.)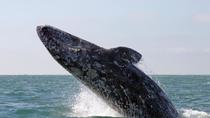 Private small group whale watching/nature sailing tour on San Diego Bay on a unique 1914 replica Friendship Sloop. All boat tours use traditional sailing ... Read more
Location: San Diego, California
Duration: 4 hours (approx.)