1724 Reviews
Address:

Ferries depart from Pier 33, 94123, USA

Hours:

Multiple departure times available

Admission:

Varies
For almost 150 years, Alcatraz has given chills to the innocent and cold sweats to the guilty. Having once served as the nation's first military prison, it was then a forbidding maximum-security penitentiary. Now, Alcatraz is part of the Golden Gate National Recreation Area and open to the public as one of the most popular attractions in San Francisco.
The roster of former Alcatraz inmates includes A-list criminals such as Chicago crime boss Al 'Scarface' Capone, dapper kidnapper George 'Machine Gun' Kelly and hot-headed Harlem mafioso 'Bumpy' Johnson. Though Alcatraz was considered escape-proof, in 1962, the Anglin brothers and Frank Morris infamously floated away on a makeshift raft and were never seen again. No wonder that first step off the ferry and onto 'The Rock' seems to cue ominous music.

A visit is more than just seeing the inside of an old prison, as the scenic ferry ride includes the epic panorama of the Golden Gate Bridge, Bay Bridge, and Angel Island, also known as the Ellis Island of the West. Alcatraz is extremely popular and space is limited, so pre-purchasing a ticket that combines the experience with a city tour or sunset cruise is recommended.
Practical Info
Alcatraz is accessible via a ferry that leaves from Pier 33 near Fisherman's Wharf upwards of 15 times per day, running to Alcatraz as early as 9:10am and returning to the pier as late as 6:30pm. Early-bird trips depart at 8:45am, while night tours allow visitors to stay on the island as late as 9:25pm. Allow about 2.5 hours for the full trip, including both ferry rides. Tickets sell out days and sometimes weeks in advance, so consider purchasing well before your planned visit. Be sure to bring along a sweater or windbreaker, as it is much cooler out on the water. The ferry has a limited beverage and snack bar; water is available on the island.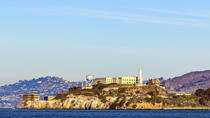 8 Reviews
Cover two of San Francisco's top highlights with a wine country bike tour and admission to Alcatraz Island. First, head up to Napa Valley, Dry Creek Valley or ... Read more
Location: San Francisco, California
Duration: 2 days (approx.)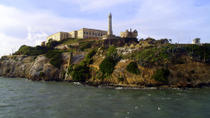 959 Reviews
Contrast the brutal austerity of Alcatraz with the sheer beauty of Muir Woods and Sausalito on this enthralling day trip from San Francisco. It's a whole day ... Read more
Location: San Francisco, California
Duration: 8 hours (approx.)
407 Reviews
Explore the best of San Francisco Bay on this great-value Alcatraz and sunset cruise combo in the summer months or hop aboard the twilight cruise in the winder ... Read more
Location: San Francisco, California
Duration: 6 hours (approx.)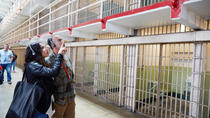 139 Reviews
See all of San Francisco's top attractions over two or three consecutive days with this special Big Bus hop-on hop-off tour and combo package. Create your own ... Read more
Location: San Francisco, California
Duration: 2 or 3 days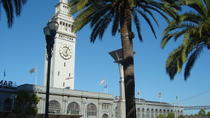 81 Reviews
The historic Ferry Building and Alcatraz are two of San Francisco's most prolific attractions. On this not-to-be missed combo tour, you get to see them both in ... Read more
Location: San Francisco, California
Duration: 1-hour food tour
Flexible time on Alcatraz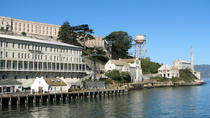 9 Reviews
See the best of the Bay Area in a convenient way with this 3-in-1 sightseeing package that introduces you to some of the most popular destinations in and ... Read more
Location: San Francisco, California
Duration: 2 days (approx.)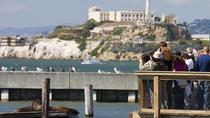 88 Reviews
Madame Tussauds, San Francisco Dungeon, and Alcatraz are three of San Francisco's most intriguing attractions. On this exciting combo tour, you'll have the ... Read more
Location: San Francisco, California
Duration: Varies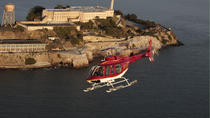 46 Reviews
See the best of San Francisco by combining a helicopter flight above the spectacular cityscape with a tour of one of its top landmarks. Spend up to 20 minutes ... Read more
Location: San Francisco, California
Duration: Flexible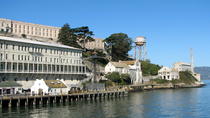 1 Review
Explore two popular Bay Area destinations — Muir Woods National Monument and the world famous Alcatraz Island — In this ultimate 1-day tour to visit two of San ... Read more
Location: San Francisco, California
Duration: 1 day (approx.)
106 Reviews
You'll start your thrilling day with a trip to Alcatraz! You'll hop the ferry to Alcatraz Island for a fascinating audio walking tour of the notorious former ... Read more
Location: San Francisco, California
Duration: Varies