126 Reviews
Address:

Grant Avenue at Bush Street, 94133, USA

Hours:

Admission:

Free
A city within a city, Chinatown is a historic maze of mysterious sights where an ancient culture from the other side of the world survives and flourishes with remarkable authenticity. You enter the oldest Chinatown in America through Dragon's Gate, on Grant Avenue at Bush Street. Once you walk through the gate, a 24-block labyrinth of restaurants, markets, temples, and shops unfolds.
Wander through the massive collection of Chinese artifacts at the Chinese Historical Society of America Museum, or ponder Thomas Chang's monumental photographs at the Chinese Cultural Center. You can glimpse skaters practicing revolutionary moves beneath the stature of Sun Yat-sen in St. Mary's Square or head to Spofford Alley to hear the clicking mah-jong tiles, a Chinese orchestra warming up, or even beauticians gossiping over blow-dryers.
Shoppers can browse the China Bazaar for novelty items or sift through bath toys and paper lanterns at the Far East Flea Market. Hungry? Try out the dim sum places and noodle joints along Stockton Street or wander along side streets of Grant Avenue to find budget basement eateries.
Before you leave Chinatown, stop by the Golden Gate Fortune Cookie Company, where cookies are stamped out on old-fashioned presses and folded while hot! Get a bag to go.
Practical Info
Chinatown is bordered by Broadway, Bush, Kearny, and Stockton streets. The area is easily accessible by buses and cable cars. Street parking is difficult, so it's best to visit the area on foot. The best spots to explore are all along Stockton and Grant streets, Portsmouth Square, and the alleys that lead off them, like Ross and Waverly.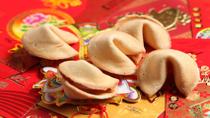 200 Reviews
Uncover the secrets of San Francisco's Chinatown district on this fascinating walking tour. Immerse yourself in the vibrant colors, buzzing atmosphere and ... Read more
Location: San Francisco, California
Duration: 2 - 3 hours (depending on if lunch is selected)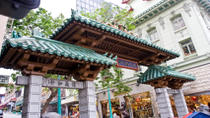 18 Reviews
Spend an evening exploring two of San Francisco's vibrant areas for food and nightlife on a walking tour through Chinatown and North Beach. On their own, they ... Read more
Location: San Francisco, California
Duration: 2 hours (approx.)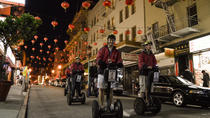 31 Reviews
When the sun goes down in San Francisco, a twinkling display of lights keeps the city glowing throughout the night. While a brisk stroll is one way to admire ... Read more
Location: San Francisco, California
Duration: 2.5 hours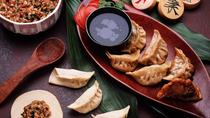 Chinatown is a one-of-a-kind San Francisco neighborhood that all have heard of, but few have explored. The first Chinese immigrants - two men and one women - ... Read more
Location: San Francisco, California
Duration: 2 hours (approx.)
Winding through three unique San Francisco neighborhoods, this comprehensive tour includes everything but the kitchen sink (sold separately). Play games, ... Read more
Location: San Francisco, California
Duration: 3 hours (approx.)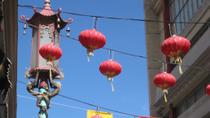 1 Review
One of San Francisco's most popular destinations for visitors is our Chinatown. Offered by a long established tour operator with talented, Chinatown native ... Read more
Location: San Francisco, California
Duration: 3 hours (approx.)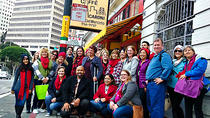 Explore two of San Francisco's stand-out neighborhoods on this in-depth culinary tour of North Beach and Chinatown. Sample delicious teas, dim sum, and ... Read more
Location: San Francisco, California
Duration: 3 hours (approx.)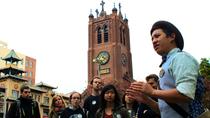 2 Reviews
For the ultimate introduction to San Francisco, visit the city's two most timeless and popular neighborhoods: Downtown and Chinatown. This tour shows off the ... Read more
Location: San Francisco, California
Duration: 2.5-3 hours (includes cafe break)
1 Review
Discover the secrets of San Francisco's Union Square and Chinatown on this 2 hour walking tour. See art by Salvador Dali and Tony Bennet, visit buildings ... Read more
Location: San Francisco, California
Duration: 2 hours (approx.)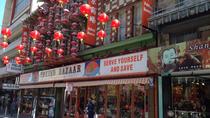 Between the Beatniks of North Beach and must-see Chinatown, you'll get more than a taste of tea while exploring San Francisco. Hear legendary tales on a ... Read more
Location: San Francisco, California
Duration: 2 hours 30 minutes (approx.)