562 Reviews
Address:

Yosemite, USA

Hours:

Open 24 hours every day

Admission:

US$20 per car entrance fee
Yosemite is the Taj Mahal of national parks and packs in acres of jaw-dropping beauty. But no matter how crowded Yosemite is, just lift your eyes ever so slightly above the people and you'll feel your heart instantly moved by the park's unrivaled splendors.

Marvel at the majestic profile of Half Dome, climb the mighty mecca that is El Capitan, or hike into Tuolumne Grove, where gigantic, stunning Sequoia's surround you. Immerse yourself in the drenching mists of Yosemite Falls, the gemstone lakes of the high country's subalpine wilderness, and Hetch Hetchy's pristine pathways.

There are walking trails everywhere, flat and steep, short and long, waterfalls to see, and beautiful swimming spots on the river. There are bike trails throughout the valley, dead flat, and on a hot day mainly off the roads and under the forest cover; the coolest spot to be.

In the middle of the valley, flat green meadows flanked by tall stands of trees surrounded by the most amazing rock faces unfold in every direction. Here you'll find the Visitor's Center, which is handy if you want to stock up on water, find a bathroom, or maybe just seek out some shade.
Practical Info
Yosemite is accessible year-round from the west (via Highways 120 W and 140) and south (Highway 41) and in summer also from the east (via Highway 120 E). After crossing the San Francisco Oakland Bay Bridge, you'll travel through the Great Central Valley and into the Sierra foothills. Following the beautiful Merced River to the Sierra Nevada Mountains, you'll enter Yosemite National Park. Roads are plowed in winter but snow chains may be required at any time.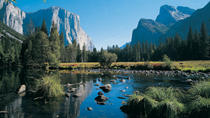 4 Reviews
Experience the majestic landscape and jaw-dropping views of Yosemite National Park on this private, guided full-day trip from San Francisco. You'll pass ... Read more
Location: San Francisco, California
Duration: 13 hours 30 minutes (approx.)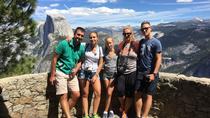 Enjoy a luxurious full-day tour experience of Yosemite and Glacier Point. This tour is designed for a very small group, and chances are if you have 4 or more ... Read more
Location: Fresno, California
Duration: 9 hours (approx.)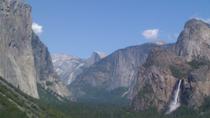 9 Reviews
Join us on this exclusive fully narrated journey to Yosemite National Park from Lake Tahoe by a professional tour guide. This is an opportunity to experience ... Read more
Location: South Lake Tahoe, California
Duration: 14 hours (approx.)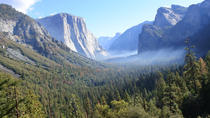 9 Reviews
This Yosemite tour is led by expert naturalist guides who will reveal the narrative of the Park, from epic clashes of granite and glacier to the land's journey ... Read more
Location: San Francisco, California
Duration: 13 hours (approx.)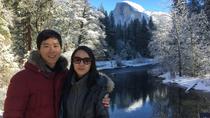 3 Reviews
Leave the City of Angels for angelic Yosemite on this over-night trip. Hop on the Amtrak from Los Angeles to Fresno where you'll spend the night. The following ... Read more
Location: Los Angeles, California
Duration: 2 days (approx.)
Explore the Yosemite Valley, known as Ahwahnee to the Ahwahneechee who once called this spectacular place home. You'll see all the sights and learn the rich ... Read more
Location: San Francisco, California
Duration: 13 hours 30 minutes (approx.)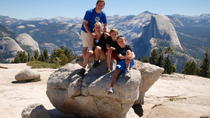 5 Reviews
See Yosemite National Park on an outing that combines short easy hikes with outdoor education–great for children and adults alike! Spend quality time with your ... Read more
Location: Yosemite, California
Duration: Varies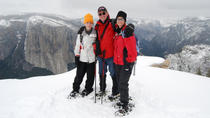 3 Reviews
Explore the winter trails of Yosemite on a snowshoe hike for a truly memorable experience in this pristine wilderness! With easy-to-follow techniques and ... Read more
Location: Yosemite, California
Duration: Varies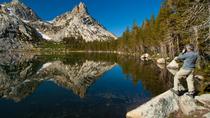 1 Review
Step into the shoes of Ansel Adams, Charles Weed, Carlton Watkins and Edward Weston during a basic or advanced photography lesson in magnificent Yosemite ... Read more
Location: Yosemite, California
Duration: Varies
Much like in the summer, the Yosemite Valley Floor offers hours of exploration within the more level and easier accessible areas of the Yosemite Valley. In ... Read more
Location: Yosemite Valley, California
Duration: 6 hours (approx.)