It's possible to wiz through the rain forest on a high-flying zip line, but slightly less-thrilling—though equally scenic—canopy tours offer travelers a calmer way to experience the wonder of the wild. 
High Ropes and Hanging Bridges Tour at Adventure Park Costa Rica
Recognized as the longest and largest high ropes course in the country, this popular tour takes visitors between 33 different platforms, where epic views of the Costa Rican rain forest and Nicoya Gulf are a guarantee. The Tarzan Swing that touches the treetops is an absolute must-do for travelers seeking a real George of the Jungle experience. 
Hanging Bridges Walking Tour in Arenal
Fifteen suspension bridges stretching for nearly two miles provide travelers with 4.5 hours of rain forest face time. Expert guides point out exotic wildlife and tropical birds while travelers wander through the dense canopy where magnificent views of active volcanoes are all around.
Monteverde Cloud Forest and Butterfly Garden from Guanacaste
Two miles of suspension bridges take travelers through the tropical treetops of the Monteverde Cloud Forest Reserve, where hundreds of bird species and dozens of indigenous tropical plants live in the fog-laden forest. After exploring the bridges, visit the Monteverde Butterfly Garden, where 20 different species are on display and expert guides can walk visitors through the life cycle using big bug cameras.
Aerial Tram Atlantic from San Jose
Experience the rainforest from aboard an aerial tram on a ride from San Jose. This bird's-eye view of the wild rainforest is a perfect option for travelers who are suspect of suspension bridges. Take a 70-minute tram ride through the canopy before tucking into lunch on the rainforest floor.
Pacific Aerial Tram Tour from Jaco
This 90-minute tram ride picks up from any Jaco hotel and takes travelers on a sky-high tour of the Costa Rican rainforest. Visitors can also hike along scenic walking trails with expert guides who will point out exotic birds and native plants. 
Fly on the top of the trees and enjoy a diversity of flora and fauna in this ziplining adventure. Then, experience a refreshing and excitement experience ... Read more
Location: Liberia, Costa Rica
Duration: 9 hours (approx.)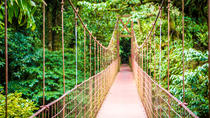 19 Reviews
See the rainforest from up above on this Arenal Hanging Bridges tour! Explore the famous Costa Rican rainforest in Arenal and walk along 15 different bridges ... Read more
Location: Arenal, Costa Rica
Duration: 4 hours 30 minutes (approx.)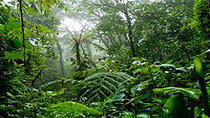 38 Reviews
See the rainforest from above the tree tops on this aerial tram ride from San Jose! You'll get a bird's eye view of the Costa Rican rainforest and have the ... Read more
Location: San Jose, Costa Rica
Duration: 8 hours (approx.)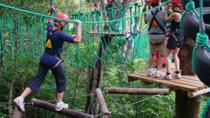 1 Review
Swing like Tarzan on a ropes and bridges activity tour at Adventure Park Costa Rica. The largest and longest high ropes course in Costa Rica has a total of 33 ... Read more
Location: Jaco, Arenal, San Jose, Puntarenas or Guanacaste
Duration: 6-8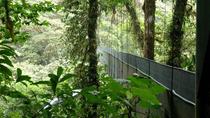 15 Reviews
Explore the tropical treetops of Costa Rica on this canopy tour in the Monteverde Cloud Forest Reserve! Set foot inside Monteverde's famous butterfly ... Read more
Location: Guanacaste, Costa Rica
Duration: 11 hours (approx.)