San Martin de los Andes RECOMMENDATIONS See all
Mountain Treks and Trails from San Martin de los Andes
By Viator, August 2018
No reviews, be the first!
Tucked amidst the Andean foothills on the lake-strewn border with Chile, the town of San Martin de los Andes has the feel of an eloquent frontier. The area is far from undiscovered—seeing as 25,000 people live here—but seeing as it's the largest town for miles and is surrounded by two national parks, the amount of wilderness on the town's front door is like an invitation to adventure.
As is the case with most national parks, hiking the area's wilderness trails is the best way to experience the beauty. Lanin National Park, on the outskirts of town, is larger than the state of Rhode Island, and the park to the south—Nahuel Huapi—is a little bit larger than Delaware. Combined with the Patagonian scenery of lakes, river, and volcanoes, the amount of options for world-class hiking is blissfully overwhelming.
Of all the treks from San Martin de los Andes, arguably the most popular is the two-day ascent up dormant Lanin Volcano. The 12,300-foot peak sits on Lanin park's northern edges, and is approximately an hour and a half drive from San Martin de los Andes. Guided trips spend the night in huts that are maintained by local climbing clubs, and from the iconic, snowcapped, conical summit, you'd swear you could look across all of Chile to see the Pacific coast. For visitors more interested in day trips that are a little bit closer to town, the six mile trail up Cerro Colorado is six miles from San Martin de los Andes, and offers a half day, moderate climb with a panoramic reward. Gaze below at the sparkling waters of popular Lake Lácar, or look west across the border to active Villarica volcano.
Or, on the clear, long days of summer when the sun sets at 8pm, get out early for the all-day adventure to remote Lake Escondido. The trailhead is approximately an hour drive on the road to Quila Quina, and the nine-hour, 16-mile hike passes through forest before finally emerging above Lake Escondido.
For the best source of information on hiking trails in the area, the main visitor center for Lanin National Park is right in the middle of San Martin de los Andes that's open from 8am-9pm, daily.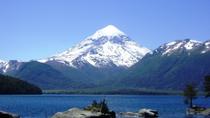 Experience the awe and majesty of Argentina's Lanín volcano on this full-day guided hiking tour, departing from San Martin de los Andes. An experienced ... Read more
Location: San Martin de los Andes, Argentina
Duration: 11 hours (approx.)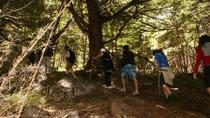 See stunning views from the top of Cerro Colorado, an extinct volcano in the Neuquen province of Argentina, on this full-day guided trekking tour. After hotel ... Read more
Location: San Martin de los Andes, Argentina
Duration: 8 hours (approx.)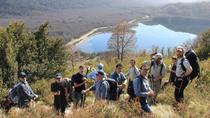 Soak up panoramas of glassy lakes and snowcapped peaks from the top of Cerro Falkner in the Neuquén province of Argentina, on this full-day guided hiking ... Read more
Location: San Martin de los Andes, Argentina
Duration: 9 hours (approx.)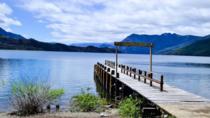 From San Martin de los Andes, discover the wonders of the Argentine Patagonia as you make your way west to the border with Chile. On this 5-hour tour by ... Read more
Location: San Martin de los Andes, Argentina
Duration: 5 hours (approx.)