From the moment you land in Calama, through your drive to the oasis town of San Pedro de Atacama, you know that you're in for something special. This is the desert like you've never seen it before, and there's a world of landscape to check out, history to learn about, walks to go on and wildlife to see. Pack your sunscreen and sunglasses for a three-day trip to San Pedro de Atacama.
Day 1: Desert Lakes, Laguna Chaxa, Miscanti and Miñique
You'll want to wake up early to get to Chaxa Lagoon (Laguna Chaxa), the most popular access point to the vast Atacama Salt Lake. Here you'll walk along a craggy, salt-encrusted path to arrive at the lake, just as the pink of the sunrise is coming over the horizon. Watch as three different species of flamingos take flight in the morning sun before heading to the high-altitude lakes of Miscanti and Miñique, azure pools framed by the lake's bright white mineral deposits and long yellow pampa grass. These protected lakes are located 13,500 feet above sea level, and you can expect to see wildlife such as foxes, the ostrich-like rheas, great horned coots and occasionally, flamingos. You may also see guanacos, a llama-like animal that travels in herds.
From here head to the town of Toconao to check out the 1750 whitewashed church and separate bell tower. In this town, where all the buildings are made of volcanic stone, you can also meet a few llamas and rheas, see the irrigated gardens and visit some handicrafts makers, who work with alpaca wool and volcanic rock. If you're still energetic, finish your day with a stop in Moon Valley (Valle de la Luna) for a pink desert sunset.
Day 2: Archaeology, History and Cosmos
No need to wake with the sun on day two, when you can get out and explore the town of San Pedro de Atacama. Highlights include the centuries-old adobe church in the Plaza de Armas, with its roof made partially of dried cactus. From here, it's time to get educated about the history of the area, with a visit the the R.P. Gustavo Le Paige Archaeological Museum, where you can see about 1,000 artifacts collected by the museum's namesake, a Belgian priest. The pieces are from the various cultures that have called (and still do call) this area home.
In the afternoon, head to the Quitara de Pukor, an ancient fortification used between about 1000 and 1500 A.D. Located about three miles outside of town, parts of the ruins have been reconstructed so visitors can get an idea of how elaborate it once was when climbing through for an expansive view of the whole valley. For more ancient structures visit Tolor, a 3,000-year-old abandoned town only just discovered in 1940; for centuries it had been covered with sand. Several of the round-walled constructions can be visited, though others are off-limits.
In the late afternoon, head to the Meteorite Museum, and once night falls, book an observatory tour.
Day 3: Natural Wonders
Start with another early morning, this time to get to the El Tatio Geysers located at an elevation of 14,000 feet. There are two main areas here, and you can see the water start to bubble out of the frozen surface of the earth as the sun's rays warm it. There is a large geyser that shoots water some 20 feet in the air, as well as a pool with a mediate temperature suitable for swimming. Wildlife is abundant here, with flamingos, various birds, vicuñas (the shyest of the llama-like animals) all over the place. If you're lucky, you may even see a vizcacha, a medium-sized rabbit-like animal that lives amid the jagged rocks.
The next stop is to the hamlet of Machuca at 13,500 feet up. You'll see grazing llamas and can also try an empanada (savory turnover) made with local goat cheese.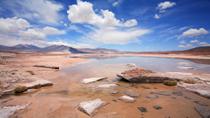 28 Reviews
Experience the other-worldly landscapes of Chile's Atacama Desert on a four-day guided tour from Calama to San Pedro de Atacama. Explore Moon Valley, where ... Read more
Location: Calama, Chile
Duration: 4 days (approx.)