San Pedro de Atacama RECOMMENDATIONS See all
Day Trips from San Pedro de Atacama
By Viator, November 2015
No reviews, be the first!
San Pedro de Atacama serves as an ideal starting point for a variety of day trips through North Chile. Getting to the popular El Tatio Geysers requires an early-morning departure, with pick-ups from town well before dawn so visitors can arrive at the geyser field just as the earth is waking up. Located 14,000 feet up, this site features a few large geysers that are well-protected from accidental splashes, as well as ice that surrounds the bubbling puddles as they start to steam. This day trip includes bird-watching and a visit to the remote town of Machuca before a return to San Pedro de Atacama in the late afternoon.
Another option is to wake up early and head to Chaxa Lagoon (Laguna Chaxa), where you'll see the sun rise over the Atacama Salt Lake. Visitors' feet crunch over a trail in the salt terrain, which from a distance looks like it could be snow. Morning is a great time to be here, as the flamingoes wake up and take flight over the lagoon. Many people combine this trip with one to the nearby locality of Toconao, a town known for its whitewashed 1750 church and separate bell tower. Handicrafts made out of local volcanic stone serve as popular souvenirs.
Rainbow Valley also merits a morning departure, with its bright greens, reds, pinks and yellows, all left behind as mineral deposits. On the way there, make a stop at Hierbas Buenas to see 11,000-year-old petroglyphs.
Those who prefer a few more hours of shut-eye in the morning can choose to visit Lagunas Cejar and Tebenquiche, two different desert lagoons. Laguna Cejar is known as the "floating lagoon," because with its high salt content, bathers are extremely buoyant. Tebenquiche is shallow with salt at its bottom, and with the broad white expanse, the lagoon creates a great mirror for the surrounding desert, with the Andes in the background.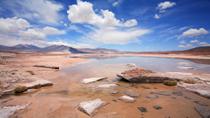 23 Reviews
Experience the other-worldly landscapes of Chile's Atacama Desert on a four-day guided tour from Calama to San Pedro de Atacama. Explore Moon Valley, where ... Read more
Location: Calama, Chile
Duration: 4 days (approx.)