Perched on a hilltop, overlooking the glittering waters of Lake Suchitlán, Suchitoto is among El Salvador's most picturesque towns, a maze of timeworn cobblestones and well-preserved colonial architecture.
Suchitoto's tranquil surroundings and laid-back pace of life make it a popular retreat for capital dwellers, as well as nurturing a lively arts scene, and the streets are dotted with artist's workshops, galleries and cozy cafés. The town's most famous landmark is the striking white Iglesia Santa Lucia, but the area is most celebrated for its natural assets, with the neighboring Suchitlán reservoir sheltering a large variety of migratory birds and nearby sights including the Los Tercios Waterfall.
Practical Info
Suchitoto is located in the Cuscatlán department of El Salvador, 47 km north of San Salvador.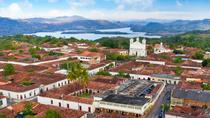 2 Reviews
Discover El Salvador's cultural capital with a professional guide on this day trip from San Salvador. Enjoy a different pace of life in Suchitoto, known for ... Read more
Location: San Salvador, El Salvador
Duration: 8 hours (approx.)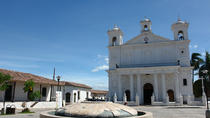 Perfect combination of the most beautiful destinations within El Salvador. Visiting the famous Flower Route with their mountain towns like Ataco and ... Read more
Location: San Salvador, El Salvador
Duration: 9 days (approx.)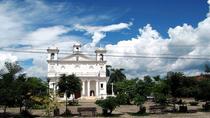 1 Review
Enjoy a full day tour to the North of the country and visit the towns of La palma and Suchitoto and also the Archeological park of Cihuatan..
Location: San Salvador, El Salvador
Duration: 8 hours (approx.)