San Sebastian RECOMMENDATIONS See all
San Sebastian Architecture Guide
By Viator, May 2015
No reviews, be the first!
San Sebastian is a delightful clash of architectural styles, with medieval townhouses coexisting with Renaissance monasteries, neo-Gothic churches and Belle Epoque spas as well as cutting-edge, contemporary museums, cultural centers and marinas.  
Although the oldest structure in San Sebastian is the much-repaired medieval Castillo de la Mota on top of Monte Urgull, life in this charming Spanish city focuses on the Plaza de la Constitution in the heart of the Old Town (Parte Vieja). Most of the buildings in this photogenic muddle of streets date from the 19th century after the destruction of the city in 1813 by English, French and Portuguese troops. Today is a dynamic area stuffed full of cafés and bars in which to sample the Basque tapas specialty, the pintxo.
A swathe of new development was instigated in the late 19th century, when San Sebastian grew rich on its royal patronage as the seaside resort of choice. Various grand buildings, including the Miramar and Aiete palaces went up during this time, adding elegance to the city's seafront esplanade. The neo-Gothic Cathedral Buen Pastor also dates from this time of expansion and wealth. 
The delicate lines of Belle Epoque style can be admired at the twin-towered Ayuntamiento (City Hall) and the ornate, glass pavilions of La Perla spa on the beachfront at La Concha, constructed in 1912. The much-acclaimed ship-shaped building inhabited by San Sebastian's yacht club was built in the 1920s Rationalist style and resembles a docked ship.
Completing the city's architectural story and pushing San Sebastian into the forefront of modern architecture are such landmark buildings as the cube-shaped Kursaal, which was designed by Rafael Moneo and won the coveted Mies van der Rohe Award for contemporary design in 2001; when floodlit at night it shimmers over the waters of the Bay de la Concha. Moneo was also responsible for the gleaming white Jesu church in the new district of Riberas de Loiola. In homage to San Sebastian's status as gourmet capital of Europe, the avant-garde Basque Culinary Center was completed in 2011 and is designed with a series of terraces that resemble a stack of plates.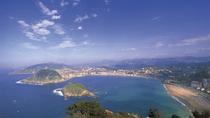 Experience the delights of coastal Basque Country on a 2-night stay in San Sebastián. Admire the top attractions of this northern Spanish waterside ... Read more
Location: San Sebastian, Spain
Duration: 3 days (approx.)