Tayrona National Park, on the northeast coast of Colombia, has some of the most beautiful beaches not only in Colombia but in all of South America. These beaches are part of a protected national park where tall mountains covered with rainforests come down to meet the golden sand beaches at small, secluded bays.

There are three main beaches to visit; Arrecifes, La Piscina and El Cabo de San Juan, each with their particular characteristics and beauty.

After a thirty minute walk down the trails in the park, the first beach you'll come to is Arrecifes. The scenery is beautiful, but be careful! Due to the dangerous currents, it's off limits to swimmers. For a beach to swim and do some sunbathing, head to the second beach, La Piscina (The Pool), which is a 40 minute walk further down the trail. As its name suggests, it's a natural swimming pool with cool water for a leisurely swim and more spectacular views.

The third beach in that area is a 40 minute walk from La Piscina, but is worth the effort to get to. El Cabo de San Juan has two spectacular beaches separated by a rocky outcrop. This is one of the best beaches in South America, where the water in every shade of blue and green meets palm tree lined beaches, and green mountains adorn in the background. On top of the rocks that divide the two beaches there's a hut-style house that can be rented for the night.

Both La Piscina and El Cabo de San Juan beaches are great for snorkeling to explore the protected coral of the Caribbean coast. Bring your own snorkeling equipment for that activity. In the El Cabo de San Juan campsite, local musicians from the area play traditional music for the tourists under the starlit skies of Tayrona Park.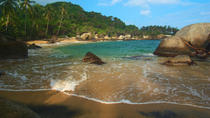 1 Review
Visit Tayrona National Natural Park and swim in a reef-formed pool in the Caribbean on this day trip from Santa Marta. Parque Nacional Natural Tayrona, as it's ... Read more
Location: Santa Marta, Colombia
Duration: 8 hours (approx.)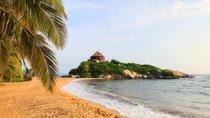 1 Review
Snorkel at Crystal Beach, a picture-perfect beach on the coastal edge of Tayrona National Natural Park (Parque Nacional Natural Tayrona)! This day trip from ... Read more
Location: Santa Marta, Colombia
Duration: 6 hours (approx.)