Chile is one of South America's most diverse, stable and prosperous countries, and Valparaiso exemplifies all of these. From its rich, European-influenced cultural heritage to its bustling seaport, Valparaiso is perhaps Chile's most cosmopolitan city. Indeed, while Santiago is the capital, the National Congress of Chile finds its home there, and nearby Viña del Mar is also used as a presidential retreat.
Valparaiso is a mixture of old and new. When you get there, you'll notice that this seaside city has a comfortable feel to it, while the town of Viña del Mar has a vibe similar to Miami, as it is populated with high-rise condos, hotels and shopping centers, though the shoreline is rocky rather than sandy.  Viña del Mar is positively happening; its lively nightlife, upscale residences, casino and access to nearby beaches make it a popular stop for South Americans and international visitors alike.
However, Valparaiso is not to be missed, either. Of course, one of the Pablo Neruda museums (La Sebastiana) is located in Valparaiso. This four-story home offers a panoramic view of the city, and if you don't plan on visiting the late, Nobel Prize-winning poet's home/museum in the village of Isla Negra, this is good stop, even if your knowledge or interest in Neruda is slim.
Another stop not to be missed is the famous Cinzano restaurant. Serving world-class Chilean cuisine, Cinzano has been a fixture for over 50 years, and on weekends, it features live music. If you are in search of a spot that is quintessentially Valparaiso, Cinzano is it.
A Valparaiso fixture of a decidedly different sort is Ex-Carcel. This former prison is now home to a community arts center, but more importantly, it is a symbol of both the city's and the country's commitment to cultural development. That a prison can become a beautiful and fascinating center for art and community is a testament to Chile's march of progress and status as a leader in South American development.
As you make your way through the city, you'll eventually come upon an ascensor, or tram. Part railcar, part elevator, ascensors will take you across Valparaiso, and they offer magnificent views. The most famous one is the Ascensor Artilleria, a 100-year old tram whose tracks climb a hill overlooking the city. At the top of this is a small marketplace, where vendors sell sundries and handicrafts. A similar Valparaiso "ride" are the funiculars, and the funicular at Concepcion Hill is a popular attraction.
Valparaiso is more than hillside trams and old restaurants, however. The city is home to the "School of Valparaiso," an architectural school within the auspices of Pontificia Universidad Católica de Valparaíso. Known for its daring and avant-garde curricula and designs, the School of Valparaiso is an outgrowth of the city's status as the Cultural Capital of Chile.
Should you desire to stay longer in Valparaiso, be sure to visit the harbor area, as it is a major entertainment district and a favorite of students, sailors and travelers alike.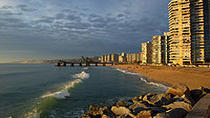 45 Reviews
Enjoy the services of your own personal guide on a private day trip exploring the coastal towns of Central Chile. Travel through wine country, stopping for a ... Read more
Location: Santiago, Chile
Duration: 8 hours (approx.)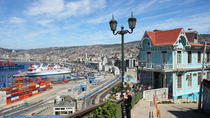 89 Reviews
Spend a day exploring the coastal towns of Central Chile on a leisurely day trip from Santiago. Travel through wine country, before arriving in the 'Garden ... Read more
Location: Santiago, Chile
Duration: 8 hours (approx.)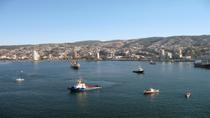 17 Reviews
Get to know Valparaiso like a local on this private tour from Santiago with a knowledgeable guide. Explore quaint alleys on foot, ride the elevators and ... Read more
Location: Santiago, Chile
Duration: 10 hours (approx.)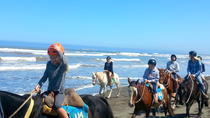 Visit the Chilean Pacific coastline and its seaside resorts and cities on this 9-hour private tour from Santiago. Enjoy a horseback ride on the beach, and see ... Read more
Location: Santiago, Chile
Duration: 9 hours (approx.)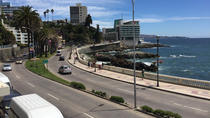 3 Reviews
This tour is the best way for you to experience a full-day guided experience that takes you to see 2 coastal cities in the central region of Chile. Valparaiso ... Read more
Location: Santiago, Chile
Duration: 8 hours (approx.)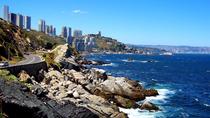 See a different side of the Pacific Ocean in this full-day tour of Chile's coastline. On this private 9-hour tour, you will visit the seaside resorts and ... Read more
Location: Santiago, Chile
Duration: 9 hours (approx.)