It is no secret that many people come to Chile for the wine, and even people for whom it's not their only reason for coming to Chile usually make time to visit a winery or two. And with good reason.

In addition to having many of the nation's best restaurants, wine bars and tasting rooms, with enviable wine lists, the city itself is also just a short drive from several important wine-growing areas, mainly the Colchagua, Aconcagua and Maipo valleys. Though it might come as a surprise, there are even a couple of wineries within the Santiago city limits, as the city has grown out from its historical center.

Chile is known as a world-class wine producer, and owes much of this to the climate, microclimate and mineral content of the soil. In recent years, Chile has been best known for Carménère, the French grape that was thought to have been extinguished by a phyloxera plague in the mid-19th century, but which was rediscovered, mistakenly thought to be Merlot, in a Chilean vineyard.

In recent years, Chile is also producing some notable Malbecs, like neighboring Argentina, and is really making a name in Suavignon Blancs. In fact, Chile is opening more and more small-scale vineyards, and taking advantage of its great location to grow varieties that have historically been under-used in Chile, such as petit verdot. The sparkling wines produced in Chile are also drawing attention, with both local and international consumption rising.

If you're really short of time, or want to compare many wineries in one sitting, it makes sense to go to a restaurant or wine bar such as BocaNariz, which has taster pours, and organizes its food menu by flavors, for better wine pairing. Upscale hotels, such as the W also have tasting rooms, and you can easily arrange a tasting at one of the upscale wine stores. The wine tourism community is accostumed to giving explanations in English.

But if wine tasting just isn't wine tasting to you without the smell of the oak barrels and the seasonally-changing view of vineyards with and without grapes on the vine, or if the history of the families and vintages associated with each wine is of interest, then a winery visit is in order.

And even if you just have a short time in Santiago, there are winery tours featuring Concha y Toro and Cousiño Macúl, both of which are conveniently located within short driving distance of central Santiago. And if you'd like to combine a winery visit with a day of outdoor adventure, try a day tour of Valle Nevado and Cousiño Macul which combines a winery a visit with a trip to one of the area's most popular ski resorts. These two wineries are among the most historic in the area, with Cousiño Macul dating back to 1856.  Concha y Toro was founded a bit later, in 1883, but is today the largest producer of export wines in Chile, including one of its most accoladed, Don Melchor, which received a rating of over 94 points in Wine Spectator Magazine.

Wineries can all provide travel-safe boxes for safe transport of bottles back home.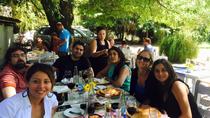 9 Reviews
Enjoy 2 wine tours with a certified sommelier in the oldest wine region in Chile, the valley of Maipo.   Learn about the wine making process, and taste various ... Read more
Location: Santiago, Chile
Duration: 8 hours (approx.)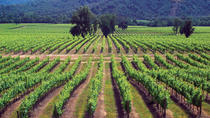 18 Reviews
Vino lovers, prepare yourself for a perfect day: explore two premier wine estates in famous Maipo Valley — Santa Rita and Concha y Toro — and sip ... Read more
Location: Santiago, Chile
Duration: 7 hours (approx.)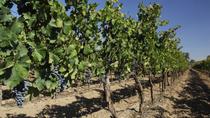 33 Reviews
Discover the 'New World of Wine' in Chile and visit two of the oldest and most historic wineries in the country on a full day guided tour from Santiago. Chile ... Read more
Location: Santiago, Chile
Duration: 7 hours (approx.)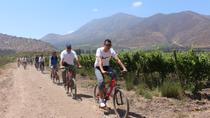 24 Reviews
Pedal your way through the vineyards of Maipo Valley on this 5-hour bike and wine tasting tour from Santiago. During the leisurely 6-mile (10-km) ride on ... Read more
Location: Santiago, Chile
Duration: 5 hours (approx.)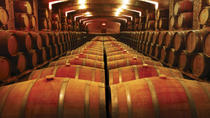 28 Reviews
Leave the crowds of Santiago and spend the morning at Undurraga winery in sweeping Maipo Valley. Surrounded by the rolling foothills of the Andes, explore a ... Read more
Location: Santiago, Chile
Duration: 4 hours (approx.)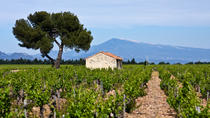 18 Reviews
Visit one of Chile's most famous wineries — Concha y Toro — on this half-day tour from Santiago. Since its start in the late 1800s, when a man named Don ... Read more
Location: Santiago, Chile
Duration: 4 hours (approx.)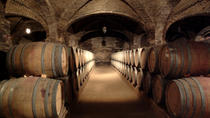 15 Reviews
Pair wine tasting with local history on this half-day tour to Santa Rita winery from Santiago. Learn about age-old winemaking traditions as you amble through ... Read more
Location: Santiago, Chile
Duration: 4 hours (approx.)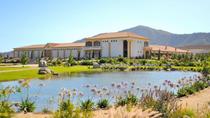 1 Review
Get to know Casablanca Valley, a famous winemaking region located near Chile's central coast, at the wine-and-cultural center of Estancia El Cuadro. Explore ... Read more
Location: Santiago, Chile
Duration: 8 hours (approx.)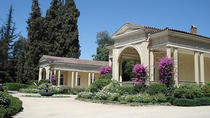 Recognized worldwide as the main wine producer and exporter in Latin America, and one of the top ten wine companies in the world. The company has reached ... Read more
Location: Santiago, Chile
Duration: 4 hours (approx.)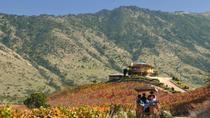 2 Reviews
About 80 miles (130 km) south of Santiago lies Colchagua Valley, one of Chile's largest and best-known wine regions, home to high-profile wineries such ... Read more
Location: Santiago, Chile
Duration: 9 hours (approx.)