Ancient Akrotiri Tours
In 1967, archaeologists uncovered the spectacularly well-preserved remains of an ancient Bronze Age Minoan village at Ancient Akrotiri, destroyed by a mighty volcanic eruption in around 1650 BC.

The most famous Minoan site outside Crete, the sandstone remains of Akrotiri's buildings reach several stories. Their door and window lintels are spookily intact, along with stone walls and porticoes, courtyards and rooms. As at Pompeii, the buildings were preserved  by the volcanic ash. Fortunately, unlike Pompeii, it appears that the villagers were safely evacuated, as no skeletons have been unearthed during the excavation.

The excavation site has been closed for several years, though restoration is continuing. To get an idea of what lies beneath, visit the Museum of Prehistoric Thira, where gorgeous frescos of boats, fishers, wildlife and everyday people from several millennia ago are displayed. You can also see personal artifacts like pottery and furniture.
Practical Info
The ancient site of Akrotiri lies southeast of the modern-day village of the same name, on the island's curly-toed southern tip.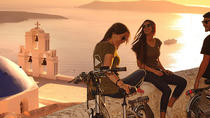 This is a vivid 3-hour trek to the city's coast with beaches and fabulous spots. Discover the hidden coffee place in the old Castelli city of Emporio. Visit ... Read more
Location: Perissa, Greece
Duration: 3 hours (approx.)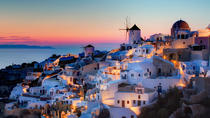 218 Reviews
A full day sightseeing tour visiting almost the whole island, including the most significant places of Santorini. The excavations of Akrotiri with professional ... Read more
Location: Fira, Greece
Duration: 9 hours (approx.)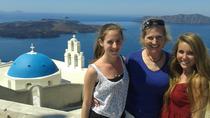 136 Reviews
See the Santorini of your dreams on this private, 5-hour or 8-hour tour with a local driver-guide. Customized entirely to your interests, your itinerary is ... Read more
Location: Santorini, Greece
Duration: Flexible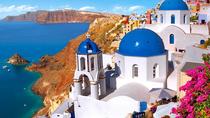 12 Reviews
See the attractions of Santorini on a private sightseeing tour with a driver-guide who introduces you to the island's natural, cultural, and culinary ... Read more
Location: Thira, Greece
Duration: 7 hours (approx.)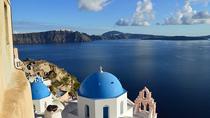 10 Reviews
Explore Santorini island on this full-day tour by bus to the most famous and attractive places on the island such as Oia, Red Beach and the Akrotiri ... Read more
Location: Thera, Greece
Duration: 11 hours (approx.)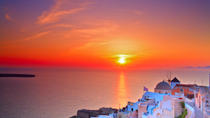 63 Reviews
Take a break from Santorini's beaches and discover Minoan excavations, the island's ancient capital and the famous Oia sunset on a full-day tour! With a ... Read more
Location: Santorini, Greece
Duration: 9 hours 30 minutes (approx.)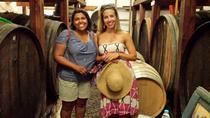 35 Reviews
Discover the ancient ruins of Akrotiri, sip Santorini wine at three wineries on this 6-hour Santorini tour! Traveling by air-conditioned minivan, learn about ... Read more
Location: Santorini, Greece
Duration: 6 hours (approx.)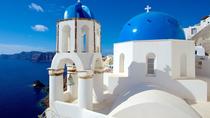 5 Reviews
Among Greece's most beautiful islands, splendid Santorini begs to be discovered. On this 5-hour, private tour of the island, visit its most essential ... Read more
Location: Thera, Greece
Duration: 5 hours (approx.)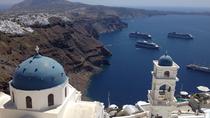 19 Reviews
See Santorini's top sights on a 6-hour private tour that includes travel by sprinter minibus. View Santorini Caldera, Akrotiri, Red Beach, Emborio, Prophet ... Read more
Location: Thera, Greece
Duration: 6 hours (approx.)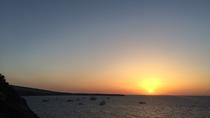 1 Review
This tour combines the highlights of the island. Start with the northern part of the island and the picturesque village of Oia, built on the edge of the cliff. ... Read more
Location: Thera, Greece
Duration: 4 hours (approx.)