Oia Tours
If you came to Santorini for the sunsets, the town of Oia is where you want to be when the sun sinks towards the horizon to such glorious effect.

Perched on the steep edge of the caldera, with open views of the sea, the village is quieter than the island's main town, Fira, at least outside sunset hours.

A string of tavernas turn their faces to the caldera for those views, and it's fun exploring the town's tiny backstreets and rocky cliff face, where homes have been carved from the volcanic rock.

There's some seriously chic boutique accommodations in Oia, complete with infinity pools and spas. The lucky people staying on for the evening dine in Oia's gourmet restaurants, perched on terraces to catch the best views.

Follow the 300 steps leading from the top of the caldera and you reach the fishing port of Ammoudi. Boats sail from here to the nearby island of Thirassia.
Practical Info
Oia lies 11km (6.5 miles) north of Fira on the coast. You can follow a lovely path atop the caldera linking the two towns, for a relaxed three- to four-hour walk, or catch one of the half-hourly buses.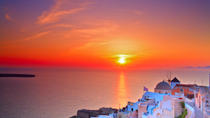 60 Reviews
Take a break from Santorini's beaches and discover Minoan excavations, the island's ancient capital and the famous Oia sunset on a full-day tour! With a ... Read more
Location: Santorini, Greece
Duration: 9 hours 30 minutes (approx.)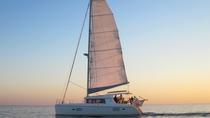 6 Reviews
A semi-private luxury cruise is one of the best ways to view a romantic sunset and feel the energy of the island accompanied by a glass of wine. A great choice ... Read more
Location: Thera, Greece
Duration: 5 hours (approx.)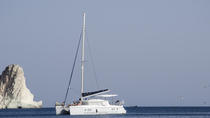 Lagoon 420 is an amazing sailing catamaran, that can comfortably accommodate 20 passengers. The tour departs around 10:30 for the Day tour and 15:30 for the ... Read more
Location: Oia, Greece
Duration: 5 hours (approx.)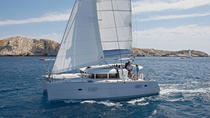 1 Review
This private catamaran tour leaves from Ammoudi Bay and sails across the caldera. Visit the best sights of the island such as the volcano, the renowned hot ... Read more
Location: Oia, Greece
Duration: 5 hours (approx.)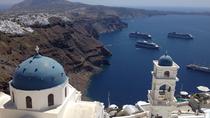 15 Reviews
See Santorini's top sights on a 6-hour private tour that includes travel by sprinter minibus. View Santorini Caldera, Akrotiri, Red Beach, Emborio, Prophet ... Read more
Location: Thera, Greece
Duration: 6 hours (approx.)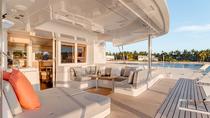 10 Reviews
Discover Santorini by sea on this 5-hour catamaran tour. Admire the island's volcanic sights, visit its impressive beaches, and soak in its thermal hot ... Read more
Location: Oia, Greece
Duration: 5 hours (approx.)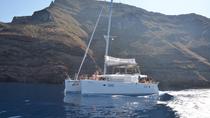 3 Reviews
On this day tour, swim at Red Beach and enjoy volcanic beaches. Experience the hot springs, the island of Thirassia and another refreshing swim before a ... Read more
Location: Thera, Greece
Duration: 5 hours (approx.)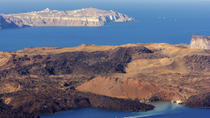 39 Reviews
Cruise around Santorini to Nea Kameni volcano and the nearby island of Thirasia on a 7-hour excursion! After ogling the Greek island vistas from the water, ... Read more
Location: Santorini, Greece
Duration: Varies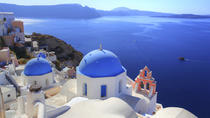 10 Reviews
Explore Santorini — the 'black pearl of the Aegean' — on this private half-day tour, and uncover the scenic wonders of the southern coast. Traveling by ... Read more
Location: Santorini, Greece
Duration: 6 hours (approx.)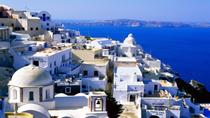 13 Reviews
While you're in port in Santorini, discover the beauty of the island on a private shore excursion. Your private guide will lead you around the island on a ... Read more
Location: Santorini, Greece
Duration: 4 hours 30 minutes (approx.)