In spite of its inhospitable landscape, craggy Santorini produces quality wines thanks to the climactic conditions found in the Aegean Islands; a rocky, volcanic soil combined with hot and sunny summers, humid night-time temperatures, and mild, dry winters. 
However, summers on the island are virtually without rainfall and to combat this, vines are grown close to the ground, coiled around themselves in 'baskets' that are able to trap moisture overnight. The roots go down deep to extract nutrients from the rich volcanic soil but thanks to the unstable structure of this mixture of ash, sand, pumice and lava, all cultivating and harvesting is still done by hand. The grape crop is transported from the fields by donkey.
Santorini's grape harvest can be destroyed by hot winds blowing in from north Africa, so most of the vineyards are found in the lee of Mount Profitis Ilias, which rises 1,857 ft (566 m) above the sea in the south of the island. Despite all these issues, it has been a center of wine production for thousands of years. 
The Santo co-operative winery rescued the industry in the 1990s when Santorini went through its tourism boom and farmland was being sold off at an alarming rate to build hotels and apartments. Today the co-op buys grapes in from small growers and pays them to keep producing. The island's best-known wine is Vinsanto, the sweet white made from grapes dried in the sun so the sugar condenses. Oak-aged white Nykteri and citrusy Assyrtiko wines are also produced here along with a small number of reds. 
Happily there are plenty of bars and tavernas scattered across Santorini in which to taste the 36 wines produced by the 10 different winemakers. A newly devised Wine Road runs north to south on the island, passing all the local wineries en route in a concerted effort to promote wine tourism to visitors. Several of the producers have canavas (cellars) that open to the public for sampling and buying, including Gavalas and Argyros, both signposted off the Wine Road. Wine-tasting visits can be made independently or as part of private driving tours around the island.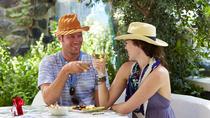 95 Reviews
Sip your way around Santorini on a 4.5-hour island wine tour, visiting three traditional wineries. Savor up to 12 different varietals made from grapes such as ... Read more
Location: Santorini, Greece
Duration: 4 hours 30 minutes (approx.)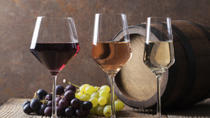 29 Reviews
Discover the ancient ruins of Akrotiri, sip Santorini wine at three wineries on this 6-hour Santorini tour! Traveling by air-conditioned minivan, learn about ... Read more
Location: Santorini, Greece
Duration: 6 hours (approx.)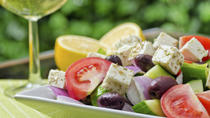 23 Reviews
Discover the crisp wine of Santorini and learn how to cook melt-in-the-mouth Greek dishes on a 6-hour food and wine tour of the island. With a local guide, ... Read more
Location: Santorini, Greece
Duration: 6 hours (approx.)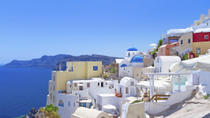 23 Reviews
See the highlights of Santorini on a 5-hour shore excursion, and explore the island from its half-submerged volcanic caldera to the summit of its highest ... Read more
Location: Santorini, Greece
Duration: 5 hours (approx.)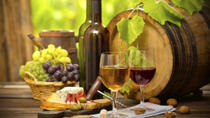 1 Review
Leave your cruise ship at Santorini Port, and sip your way around the island on a private morning or sunset wine tour! The 4-hour shore excursion includes ... Read more
Location: Santorini, Greece
Duration: 4 hours (approx.)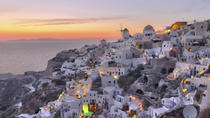 35 Reviews
Cruise around Santorini, enjoy free time at Nea Kameni volcano, relax in the hot springs and watch the sun fade over the island on a sunset dinner cruise. ... Read more
Location: Santorini, Greece
Duration: 4 hours (approx.)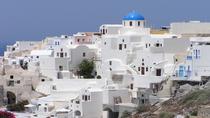 On this private shore excursion from the Santorini port, you will cover all the top sights of the island. Start your tour at a local winery, where you'll ... Read more
Location: Santorini, Greece
Duration: 5 hours (approx.)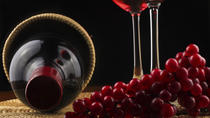 Combine a Santorini wine tour with a restaurant meal in the countryside on this 5-hour private excursion. After visiting a volcanic winery and a family-run ... Read more
Location: Santorini, Greece
Duration: 5 hours (approx.)