As Japan's northernmost main island, Hokkaido is known for its white winters. And as the leaves turn and the snow starts to fall, the people of Sapporo know how to make the best of a chilly situation. Nowhere is this more apparent than at the Sapporo Snow Festival, when you'll find local artists creating ice and snow sculptures in Odori Park and along the main street of the Susukino District. 
Thanks to its reliably snowy conditions, Sapporo was chosen as host of the 1972 winter Olympic games. Explore that history at the Winter Sports Museum, which sits in the former ski-jump stadium built specially for the games. You can try your hand in a ski-jump simulator and take a chairlift to the starting line of the real thing.
To hit the actual slopes during your time in Sapporo, head to one of the nearby mountains, each fit for skiing. Mt Teine is just a half hour outside of town and was used during the 1972 Olympics. Today you can find runs ranging from beginner to expert in two ski zones, and from the summit you can enjoy incredible views of the city.

You can also opt to spend a day out in nature on a snowshoe adventure guided through the Bankei forest. Learn about the flora and fauna of the Hokkaido region from your nature-enthusiast guide.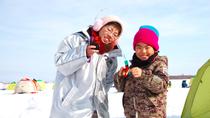 7 Reviews
Participate in one of Hokkaido's most popular winter activities: ice fishing for smelt on the frozen Barato River. This seasonal half-day tour includes a ... Read more
Location: Sapporo, Japan
Duration: 4.5 hrs (approx.) - Morning Tour
4 hrs (approx.) - Afternoon Tour