Shetland Islands Tours
A sprawling archipelago of more than 100 islands located at the northernmost point of Britain, the far-flung Shetland Islands are one of Scotland's most off-the-beaten-track destinations, with just 15 inhabited isles and only one town – Lerwick. The islands' unspoiled wilderness is its main draw, with 2,702 km of rugged coastline sheltering a sizable population of puffins, gannets and Minke Whales; vast glens and lochs offering a striking backdrop for hiking or cycling; and heather-blanketed plains dotted with free-roaming herds of sheep and native Shetland ponies. 
Thanks to the islands' proximity to Scandinavia, the Shetlands also boast a rich Viking heritage and their Norse background is the focal-point of the annual Up Helly Aa fire festival, held each January in Lerwick and renowned as the world's largest Viking festival.
Practical Info
The Shetland Islands are located at the meeting point of the North Sea and the Atlantic Ocean, more than 80 km north of the Scottish mainland. Regular flights connect the capital of Lerwick to the UK and overnight ferries run from Aberdeen or the Orkney Islands to Lerwick.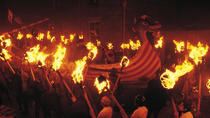 Go wild at the legendary 'Up Helly Aa Fire Festival' in the remote Shetland Islands on a 6-day experience from Edinburgh! Bringing the islands' Nordic history ... Read more
Location: Edinburgh, United Kingdom
Duration: 6 days (approx.)