The Grand Canyon needs no introduction: considered one of the seven natural wonders of the world, it ranks highly on just about every traveler's wish list. And with a range of different tour options, you can see exactly what you want, when you want on a visit to the red rock city of Sedona.

But first, you have to get there. The nearest major center is Flagstaff, and while the city has its own small airport, you're more likely to fly into Las Vegas or Phoenix, both of which are a considerable drive from the canyon. Therefore many choose to use Flagstaff or Sedona as their base for exploring the region. From Flagstaff the south rim of the Grand Canyon is around 90 miles (145 kilometers) away and takes less than two hours by road; from Sedona, add about half an hour.


And while a road journey in air-conditioned comfort is the popular choice, why not take a romantic steam train? The Grand Canyon Railroad has been operating for over 100 years and makes a great way to enjoy the scenery at a relaxed pace before exploring the canyon itself. Or for a once-in-a-lifetime experience, incorporate a thrilling helicopter ride into your tour. Whichever way you choose, you will get the chance to walk the South Rim before moving onto the East Rim, where you'll be treated to breathtaking views of the Painted Desert in the distance, as well as the Colorado River winding its way through the canyon floor way, way below.
Or why not combine your sightseeing with a visit to the traditional villages of the Navajo Indian Reservation to see how the guardians of this natural wonder live? And if you really want to get the most out of your Grand Canyon experience, consider a two-day visit with an overnight stay in a nearby hotel.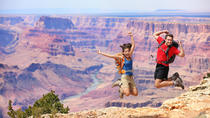 183 Reviews
This Grand Canyon day trip from Flagstaff or Sedona blends ancient ruins, lava fields, majestic volcanoes and amazing views throughout Grand Canyon National ... Read more
Location: Flagstaff or Sedona, Arizona
Duration: 11 hours (approx.)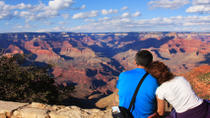 127 Reviews
You get to choose how you see the Grand Canyon South Rim on this breathtaking tour from Sedona. Perhaps you'd like to see the IMAX movie, maybe enjoy a bird's ... Read more
Location: Sedona, Arizona
Duration: 11 hours (approx.)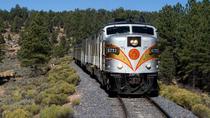 167 Reviews
Step aboard the Grand Canyon Railway for a trip to the majestic Grand Canyon you'll never forget. Feel the rumble of a vintage train as the engine chugs ... Read more
Location: Williams, Arizona
Duration: 8 hours (approx.)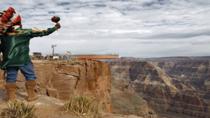 18 Reviews
Explore the Grand Canyon West Rim by air and foot on this day trip from Sedona. This tour has it all: Take in gorgeous aerial views of Red Rock Country on a ... Read more
Location: Sedona, Arizona
Duration: 6 hours (approx.)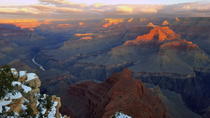 71 Reviews
Enjoy spectacular views at the Grand Canyon South Rim and East Rim, and pick up a native American souvenir on this full day tour from Flagstaff. Admire the ... Read more
Location: Flagstaff, Arizona
Duration: 8 hours (approx.)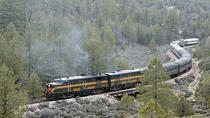 18 Reviews
Take a step back in time as you travel on the historic Grand Canyon Railroad. Each car of this Arizona railroad, which made it's maiden voyage in 1901, has ... Read more
Location: Flagstaff, Arizona
Duration: 10 hours (approx.)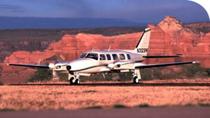 4 Reviews
From Sedona, take a 1.5-hour aerial tour to Grand Canyon National Park. Fly along the South Rim to Oak Creek and past the San Francisco Peaks to the Little ... Read more
Location: Sedona, Arizona
Duration: 90 minutes (approx.)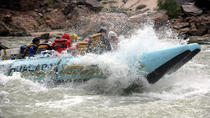 33 Reviews
Experience a thrilling adventure as you raft down the mighty Colorado River along the sheer cliffs of the Grand Canyon. Also included in this exciting white ... Read more
Location: Las Vegas, Nevada or Flagstaff, Arizona
Duration: 17 hours (approx.)