Must-See Palaces in Seoul
By Viator, January 2018
No reviews, be the first!
Expats familiar with the South Korean capital will tell you that one of the most rewarding (and affordable) recreational activities in the city is to simply strike out in a random direction and explore the sprawling metropolis on foot. Travelers on a tighter schedule, however, should tackle Seoul in a more organized manner. The following itinerary should help get you started.

Day 1: Gyeongbokgung

Originally constructed in the 14th century, Gyeongbokgung Palace was once the largest of the so-called "five grand palaces" from the Joseon era. Though less than fifty percent of the original palace complex remains intact (the palace's many buildings, bridges, gates, and other facilities were bombed or otherwise demolished during the Japanese occupation in the early 20th century), what remains is nonetheless impressive, and resotration efforts are advancing every day. With a name that translates as "Palace of Shining Happiness", the extensive grounds easily constitute a full day's investment.

Day 2: Changdeokgung and Deoksugung

If your first day out whetted your appetite for all things palatial, these two palace complexes are an excellent fix. Boasting UNESCO World Heritage Site status, Changdeokgung Palace was erected shortly after Gyeongbokgung in the year 1405. It also suffered extensive damage during several invasions by the Japanese over the centuries, but it has retained much of its original appeal, including a beautiful stone road, a pond and pavilion, and a massive tree that is over 300 years old located in the rear garden.

The walled compound of palaces that is Deoksugung features forested gardens, multiple palace buildings, an art museum, and a noteworthy statue of the late King Sejong.

Day 3: Changgyeonggung and Gyeonghuigung

Working your way in, as it were, to the heart of Seoul, you'll find Changgyeonggung Palace, which was constructed in the mid-15th century and served as the summer palace of the Goryeo Emperor. It's easy to see why. Converted into a zoo and botanical garden by the Japanese, the palace grounds have been restored to their original glory in recent years, complete with ancestral shrines, ornate arched bridges, and arresting mountain views.

The last of the aforementioned five, Gyeonghuigung Palace suffered a similar fate at the hands of colonial invaders, and has since been similarly restored. Today it is home to the Seoul Museum of History and the Seoul Museum Annex of Art.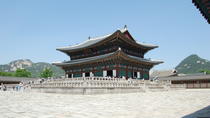 48 Reviews
Get an excellent overview of Seoul on this full-day sightseeing tour of the city's top attractions. With a guide, you'll visit Jogyesa Temple, Gyeongbokgung ... Read more
Location: Seoul, South Korea
Duration: 8 hours (approx.)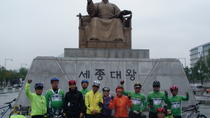 9 Reviews
Experience a full day of Seoul sightseeing on this combination bike and walking tour with a local guide. Biking for a total of two hours, pedal past Deoksu ... Read more
Location: Seoul, South Korea
Duration: 7 hours (approx.)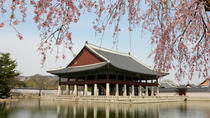 51 Reviews
Visit some of Seoul's most famous attractions during this 8.5-hour guided tour. Visit Jogye Temple, pass by The Blue House, Gyeongbok Palace, Insadong, Bukchon ... Read more
Location: Seoul, South Korea
Duration: 8 hours 30 minutes (approx.)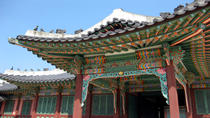 133 Reviews
Spend a full day discovering the beautiful architecture and landscape of Seoul while learning about its history, culture and traditions. With your guide, visit ... Read more
Location: Seoul, South Korea
Duration: 8 hours 30 minutes (approx.)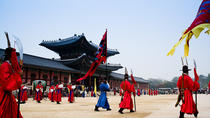 61 Reviews
Learn about Seoul's royal and religious history as you sightsee with a knowledgeable local guide. Travel by coach to several stunning landmarks in the capital, ... Read more
Location: Seoul, South Korea
Duration: 3 hours 30 minutes (approx.)
14 Reviews
This small group journey will start with Jogyesa, the center of Buddhism in Seoul where you can see locust trees and baeksong trees in front of Jogyesa ... Read more
Location: Seoul, South Korea
Duration: 8 hours (approx.)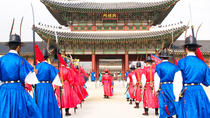 14 Reviews
The country of the morning calm is full of history, and its capital, Seoul, abounds with authentic treasures. Join this 8-hour private tour to discover some of ... Read more
Location: Seoul, South Korea
Duration: 8 hours (approx.)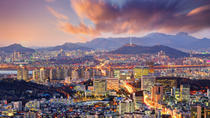 2 Reviews
Cover the essential city highlights in a small group setting and end the day by taking in Korea's #1 non-verbal musical comedy show, Nanta. This full-day tour ... Read more
Location: Seoul, South Korea
Duration: 10 hours (approx.)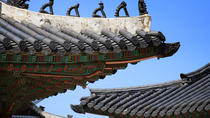 1 Review
Choose your own adventure! Take a private, custom tour of Seoul city highlights without worrying about being taken to compulsory shopping stops like the ... Read more
Location: Seoul, South Korea
Duration: 8 hours (approx.)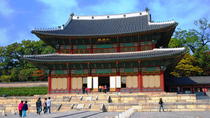 5 Reviews
Enjoy this half-day afternoon tour of Seoul, which will introduce you to the Bukak Skyway and Palgakjeong, Changdeokgung palace before stopping at the Insadong ... Read more
Location: Seoul, South Korea
Duration: 4 hours (approx.)