Seoul Outdoor Attractions
By Viator, July 2016
No reviews, be the first!
As with any major metropolis set in a subtropical climate, identifying outdoor attractions in Seoul is critical to planning an enjoyable vacation during the warmer months. The following itinerary should see you through or at least get you started.

Day 1: Han River and Olympic Park

The name of the game for outdoor enjoyment is maximization. There can be no better expression of this sentiment than a visit to Seoul's famous Olympic Park, followed by a relaxing ride along the Han River. 

The former was constructed as part of the citywide effort to attract and host the 1988 Summer Olympics. The fan-shaped assemblage of structures currently houses arenas specially designed for the exhibition of fencing, tennis, gymnastics, and swimming. There is also an Olympic Museum, a sculpture park and art museum, a Mongchon-themed fortress, a national sports university, a hotel, and the iconic Peace Gate.

After a morning/afternoon spent perusing the Olympic Park, a nice way to spend the evening is a cruise aboard one of the many outfits offering trips down the Han River, which allows you to take in the full scope and breadth of the skyline at your leisure.

Day 2: Seoul Grand Park & Zoo

Covering an area of more than six million square feet, the Seoul Grand Park has attractions enough to consider devoting an entire day to its offerings. Opened in 1984, the park contains a noteworthy zoo, a botanical garden, an educational center for young people, and various other amenities and facilities. A popular attraction year-round, the park is also the setting for several seasonal festivals, including the Royal Cherry Blossoms Festival in early summer, the reputedly romantic Rose Festival, and the Autumn Leaves Festival.

Day 3: Cheonggyecheon Stream, Bukhansan Mountain

What as recently as the 1970s was a neglected gully beneath an overpass, the Cheonggyecheon Stream was successfully rehabilitated in 2005, and now offers a pleasant respite for city-dwellers and tourists looking for a break from the concrete and steel. There is an impressive fountain, a decorative bridge, a beautiful ceramic mural, and many other explosions of color and restorative natural settings to choose from.

The so-called "North Han Mountain", or Bukhansan, is a striking natural feature that dominates the landscape north of the Han River. Its strikingly bare granite peak is visible from most of Seoul, and the national park that bears its name is a popular destination for outdoor enthusiasts. Its rugged character combined with its easy accessibility make it popular with casual tourists visiting the city.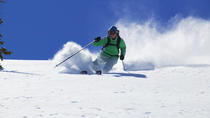 3 Reviews
Spend a day on the world-class ski slopes of Yongpyong Resort, home to the World Cup Ski Competition and the Asian Winter Games. With a full-day ski pass to ... Read more
Location: Seoul, South Korea
Duration: 9 hours (approx.)
Spend a day on the slopes of Elysian Ski Resort on this 12-hour day trip from Seoul.  After a 1.5-hour drive to the mountain by climate controlled bus, you're ... Read more
Location: Seoul, South Korea
Duration: 12 hours (approx.)
2 Reviews
This 12-hour day trip from Seoul takes you to Elysian Gangchon Ski Resort, which is very popular among tourists and locals due to its close proximity to ... Read more
Location: Seoul, South Korea
Duration: 12 hours (approx.)
1 Review
During Korea's snowy winter-time, travel about one hour to the Elysian Ski Resort to enjoy a day of sledding. Your tour will include transportation, Ski gloves ... Read more
Location: Seoul, South Korea
Duration: 12 hours (approx.)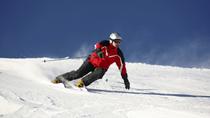 Not far from Seoul, nestled on Mt Taegi, sits Phoenix Park Ski Resort in the winter sports region of Pyeongchang. From November through March, you can spend ... Read more
Location: Seoul, South Korea
Duration: 2 days (approx.)
Break away from the busy streets of Seoul and join this 8-hour private hiking tour. Bukhansan is a popular spot among locals as its natural scenery ... Read more
Location: Seoul, South Korea
Duration: 8 hours (approx.)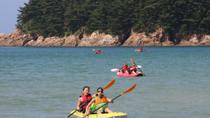 Go behind K-pop and kimchi to enjoy a different side of South Korea on this 2-day outdoor tour that goes from a sea kayak to a beach campsite to a scenic ... Read more
Location: Seoul, South Korea
Duration: 2 days (approx.)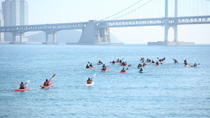 A kayaking tour on the Han River is a wonderful way to discover Seoul's natural and urban landscapes. This 6-hour eco-adventure with an expert guide includes a ... Read more
Location: Seoul, South Korea
Duration: 6 hours (approx.)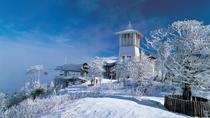 From November through March, make a winter getaway from Seoul to Yongpyong Resort. It comes with all the bells and whistles for skiers: a choice of overnight ... Read more
Location: Seoul, South Korea
Duration: 2 days (approx.)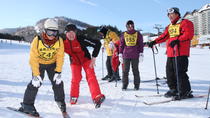 From November to March, ski at Yongpyong, a top Korean ski resort that is home to the World Cup Ski Competition and the Asian Winter Games. Spend two nights ... Read more
Location: Seoul, South Korea
Duration: 3 days (approx.)