Seville Cathedral (Catedral de Santa María de la Sede)
When the designers of the Seville Cathedral set out to build a new church on the site of the city's old mosque, they didn't hold back. They wanted the best of the best, excess of excess, and they got it.  Building of this new cathedral 'like no ...
Viewing All 4 Photos
Certified photos by travelers like you.
Anonymous
June 2011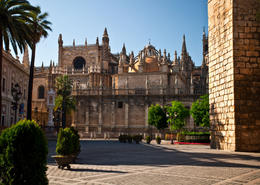 Seville Cathedral and Giralda Tower in Spain