Not only is Seville one of Spain's most intriguing cities, but its southern location places it within easy day-trip distance of several other equally visit-worthy destinations. With one extra day, you can venture beyond Seville's labyrinth streets and tour one of these captivating Andalucian cities.

Granada

Leave Seville behind to visit one of Spain's -- and the world's -- greatest treasures: the Alhambra. On a day trip to Granada, you'll skip the lines at the famous Moorish fortress and spend your day on a guided tour, discovering all of its magical corners. Admire the tiled walls of the Alhambra Palace, the blooming gardens of the Generalife, and even extend your visit with a tour of the neighboring whitewashed Albaicín neighborhood.

Ronda

For a complete change of scenery, go farther south to the town of Ronda. Straddling a gaping canyon, the pueblo is like none other in Spain, and even more so given its fame as the origin of formal bullfighting as we know it. On a guided day trip tour to Ronda, you'll have the opportunity to get acquainted with the town, visiting the Plaza de Toros, gazing down the river-carved valley, and sampling wines during a visit to the Wine Museum. You can also extend the trip to include a drive through Andalucía's pueblos blancos, or white villages, that dot the hillsides of the south.

Córdoba

See another side of Spanish history with a guided day trip tour to Córdoba. The highlight of the trip will undoubtedly be a visit to the Mezquita: a mish-mash of mosque and cathedral that captures the city's diverse history. After that, explore the Jewish Quarter, stopping at one of Spain's only pre-Inquisition synagogues, followed by a visit to the Alcázar, which was once home to the Moors and the Catholic Kings. For still more day trip adventure, get to know the village of Carmona, where you will find out about its storied past while taking in panoramic views of the surrounding valley and town.
459 Reviews
Experience Andalusia's UNESCO World Heritage-listed wonders on this day trip from Seville to Granada. Enjoy skip-the-line entrance to Alhambra ... Read more
Location: Seville, Spain
Duration: 13 hours (approx.)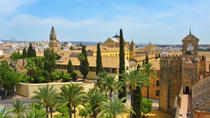 77 Reviews
Take a day trip from Seville to discover the cultural, historical and religious gems of Cordoba. Explore the Jewish Quarter and enjoy skip-the-line entry to ... Read more
Location: Seville, Spain
Duration: 10 hours (approx.)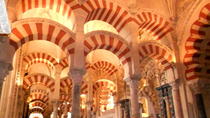 257 Reviews
With whitewashed courtyards, colorful cobblestone alleys, historic monuments and a fascinating melting pot of Muslim, Christian and Jewish culture, Cordoba is ... Read more
Location: Seville, Spain
Duration: 9 hours (approx.)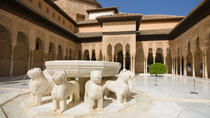 360 Reviews
Take a trip to Granada and the Alhambra Palace, one of the most beautiful architectural marvels in the world, on a day trip from Seville. Granada is home to ... Read more
Location: Seville, Spain
Duration: 12 hours (approx.)
62 Reviews
Take a day trip from Seville to explore the ancient city of Ronda, where you'll enjoy tasting local wines and explore Plaza de Toros, a traditional ... Read more
Location: Seville, Spain
Duration: 11 hours (approx.)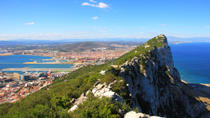 56 Reviews
Embark on a journey from Seville to the ancient city of Gibraltar, the gate between Africa and Europe on the Mediterranean Sea. Take a sightseeing coach tour ... Read more
Location: Seville, Spain
Duration: 11 hours (approx.)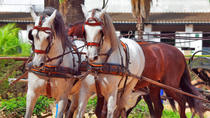 69 Reviews
Enjoy a taste of southern Spain's countryside and culture on this Jerez and Cádiz day trip from Seville. Taste Spanish wine at a winery near Jerez, where ... Read more
Location: Seville, Spain
Duration: 10 hours (approx.)
4 Reviews
Discover Spain's religious heritage and stunning natural scenery on this day trip from Seville. Hop in a 4WD vehicle for an exciting tour of Doñana ... Read more
Location: Seville, Spain
Duration: 11 hours (approx.)