There are myriad worthwhile attractions and experiences to be enjoyed in Seward. While you could easily spend weeks immersing yourself in native culture, outdoor beauty and active recreation, not everyone has unlimited time. To help you plan a long weekend, here is a suggested itinerary for three days in Seward.

Day 1: Tour Kenai Fjord National Park

If you can only do one thing when you're in Seward, make it exploring Kenai Fjord National Park. Encompassing 1,047 square miles (2,711 square kilometers), the park is littered with glacial-carved fjords. Within the park, make sure to visit Harding Icefield, an enormous ice field with 40 glaciers flowing into it. Take an aerial tour over the park for a unique vantage point, kayak through the fjords and explore the trails around Exit Glacier.

If you're interested in fishing, salmon and Dolly Varden are prevalent in the backcountry of the park. And don't forget to spend some time trying to spot wildlife like black bears, bald eagles, mountain goats, Dall's porpoises, Stellar sea lions, humpback and orca whales and much more.

Day 2: A scenic drive

Seward gives you access to one of Alaska's most scenic drives: The Seward Highway. This National Scenic Byway runs 125 miles (201 kilometers) from Seward to Anchorage, passing through some of the state's most scenic areas, like the Kenai Peninsula, Chugach National Forest, Turnagain Arm and Kenai Mountains. Although you never leave Alaska, you'll feel like you're crossing borders as the landscape switches between alpine meadows, retreating glaciers, majestic fjords, mirror lakes and rugged peaks.

While you could complete the drive in a few hours, it's best to spend a few days and take your time as there are a number of attractions and experiences along the way, some of which include learning about Alaska's railroad history at the Potter Section House Railroad Museum; seeing wildlife like moose, caribou, Siberian board and bison at the Alaska Wildlife Conversation Center; exploring an old gold mining town at Hope Junction and trekking the beautiful Devil's Creek Trail.

Day 3: Exploring native culture

Along with exploring the outdoors, Seward allows you to get to know native culture in Alaska. Take a day trip to the Alaska Native Heritage Center in Anchorage, where you can learn about the culture and heritage of 11 different Native cultural groups. The attraction offers a range of educational experiences, like traditional dancing, storytelling, watching artisans at work, dog sledding, gallery and exhibit viewing, and perusing traditional handicrafts on consignment from Native artisans in the gift shop.

Outside, life-sized re-creations of native dwellings bring history to life. In Seward you can also visit the Chugach Heritage Center, where you can learn about the heritage of the Chugach people and view Native artworks. The Seward Community Library Museum is also worth a stop, as it houses photographs, artifacts and historical documents pertaining to Seward's history, as well as Native baskets and ivory carvings.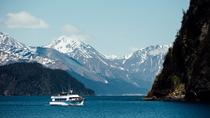 70 Reviews
Hop aboard one of Alaska's most popular wildlife and glacier cruises, and take an extraordinary six-hour journey through Kenai Fjords National Park. This ... Read more
Location: Seward, Alaska
Duration: 6 hours (approx.)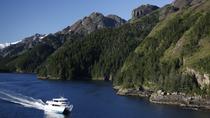 8 Reviews
Soak up the serene beauty of the Alaskan wilderness on this 4.5-hour cruise across Resurrection Bay. Glide past majestic mountains, craggy cliffs and mammoth ... Read more
Location: Seward, Alaska
Duration: 4 hours 30 minutes (approx.)
12 Reviews
Massive blue glaciers, narrow fjords and abundant marine life are just some of the reasons that Kenai Fjords National Park is at the top of many outdoor ... Read more
Location: Seward, Alaska
Duration: 9 hours (approx.)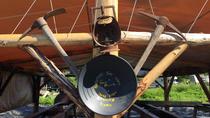 Gold pan near a salmon stream in Seward. Learn the art of panning for Alaskan gold in the elevated troughs. This 1-hour activity is family friendly.
Location: Seward, Alaska
Duration: 60 minutes (approx.)