Red Carp Pond
Recognized as one of the "Ten Scenes of the West Lake," the "Viewing Fish at Flower Harbor" refers to the practice of watching thousands of red carp swim in unison in a spot known as Red Carp Pond.  Located at the center of this 50 acre park, the ...
Viewing All 2 Photos
Certified photos by travelers like you.
Anonymous
February 2015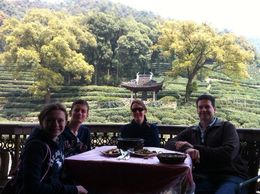 Lunch at the local tea farmer's house