15 Reviews
Address:

Mount Sinai, Sinai Peninsula, Mt Sinai 4828513, Egypt

Hours:

Monastery open 9am - 12pm, closed Fri, Sun, and all Greek Orthodox holidays

Admission:

Free
For many visitors to St. Catherine's Monastery at the foot of Mount Sinai, the trek to the mountain's 2,285 meter (7,495 foot) summit is a highlight of their visit.
There is a chapel at the top, reached by either following the camel trail or climbing the 3,750 Steps of Repentance. Whichever way you visit, the final stretch is a grueling 750 rocky steps to the top, where you'll be rewarded by spectacular views, plus the knowledge that you are standing on the spot where Moses received the Ten Commandments.
Most visitors climb the mountain before dawn, arriving in time to catch the sight of the sun rising over the desert and surrounding peaks. To make things easier on your thigh and calf muscles, take the path on the way up, and the steps on the way down.
Practical Info
Mount Sinai is on the Sinai Peninsula. The best way to get here is on an organized tour.
You could also take a bus from Sharm el Sheikh, then pick up a local taxi from the nearby village of Al Milga.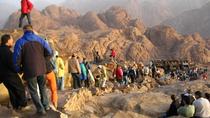 Visit Mt. Sinai and St. Catherine's Monastery on an excursion from Dahab. You will see the oldest active Christian monastery and watch the sun rise from the ... Read more
Location: Dahab, Egypt
Duration: 14 hours (approx.)
Visit the place where Moses received the 10 Commandments at the foot of Mount Sinai. Explore the beautifully isolated St. Catherine's Monastery, a UNESCO World ... Read more
Location: Cairo, Egypt
Duration: 1 day (approx.)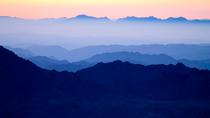 1 Review
An exciting and very informative trip to the top of Mt Sinai to watch the sunrise and take in the historical interest in the area. This is where Moses was ... Read more
Location: Sharm El-Sheikh, Egypt
Duration: 16 hours (approx.)
Visit Mount Sinai to climb the mount and enjoy the sunrise view from one of the highest points in Sinai.
Location: Sharm El-Sheikh, Egypt
Duration: 10 hours (approx.)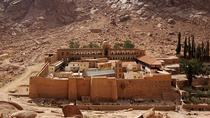 1 Review
St. Catherine's Monastery the world's oldest Christian Monastery still in use and a UNESCO World Heritage site. In this wonderful tour you will visit the ... Read more
Location: Dahab, Egypt
Duration: 1 day (approx.)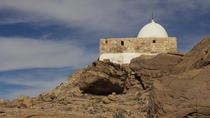 Travel from Eilat to Mt. Sinai and St. Catherines' Monastery to climb the famous mountain where it is said that Moses received the Ten Commandments. Tour ... Read more
Location: Eilat, Israel
Duration: 1 day (approx.)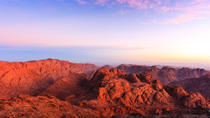 15 Reviews
See the sun rise over the desert on an unforgettable visit to the place where Moses received the 10 Commandments. You'll travel in air-conditioned comfort with ... Read more
Location: Sharm el-Sheikh, Egypt
Duration: 14 hours (approx.)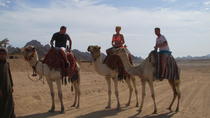 2 Reviews
A must do activity while here in Sharm, and in the desert makes it so much fun for all the family. Excellent value for money and a special way to get an ... Read more
Location: Sharm El-Sheikh, Egypt
Duration: 60 minutes (approx.)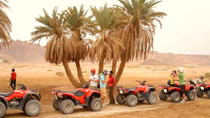 Experience the thrill of riding a quad bike, on desert trails that take you on a journey through the beautiful Sinai Wadis and Mountains; a trip that you won't ... Read more
Location: Dahab, Egypt
Duration: Flexible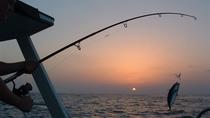 Spend a full day or half day fishing in the Red Sea on a private boat. Test your skill and luck with a wide range of tropical and game species. All necessary ... Read more
Location: Dahab, Egypt
Duration: Flexible