Visitors to Sicily's cities may begin to recognize similar styles of architecture from one town to the next. This is called Sicilian Baroque, a unique style that had an opportunity to spread quickly through the island during a massive rebuilding effort after a huge earthquake in 1693. The result is that many towns are known for their collections of Sicilian Baroque buildings - and some have even been added to UNESCO's World Heritage list.

There are many towns in Sicily in which you can see the Sicilian Baroque style, but perhaps the best examples are the ones on UNESCO's World Heritage Sites list in the Val di Noto. This collection of eight towns (including Noto, Palazzolo, Ragusa, Modica and Catania) shows off what UNESCO calls "the culmination and final flowering of Baroque art in Europe." Each town dates back much further than the Baroque period, but since the earthquake hit in 1693 and damaged or destroyed so many of the buildings, they look much more uniform as a result of later rebuilding efforts.

The eight towns on UNESCO's list are Caltagirone, Militello Val di Catania, Catania, Modica, Noto, Palazzolo, Ragusa and Scicli. These are not, however, the only towns where you can see examples of Sicilian Baroque. Other towns in Sicily with Baroque features include Palermo, Siracusa and Trapani.

While architecture buffs will certainly find plenty of reasons to get excited about visiting the Baroque hill towns of Sicily, there are plenty of reasons to visit even if you don't wax poetic about Doric and ionic columns. Sicily has a wide variety of historical sights to see, dating back to ancient Greek and Roman times, as well as some of Italy's best beaches. Simply put, these Baroque hill towns are simply beautiful to look at and wander through, whether or not you understand their roots.

Here are highlights of what to visit in some of Sicily's best-known Baroque hill towns:

Noto
Noto has arguably the best examples of Sicilian Baroque from the post-1693 rebuilding. The location of the town today is different than where the old town sat, and the new location was chosen because of its benefits for building a town. There are nine churches and several palazzos that demonstrate the Sicilian Baroque style beautifully.

Catania
Catania is the largest city on UNESCO's list, and while it includes many fine examples of Sicilian Baroque style, it also boasts historic attractions from many other periods (including ancient Greek and Roman times). Catania, along with Ragusa, is particularly noted for its High Baroque architectural examples.

Ragusa
Ragusa, like Noto, was rebuilt in a different place post-earthquake, so you can see the differences between the towns. The new Ragusa is, along with Catania, noted for its examples of the High Baroque style. There are nine churches and seven palazzos in Ragusa, all in Sicilian Baroque.

Modica
Modica was rebuilt in a different location post-earthquake, with the new city being a bit further downhill; the old city sits atop the hill. There are a few notable examples of the Sicilian Baroque style in the new town of Modica, including the Cathedral of St. George.

Palazzolo
Palazzolo is another town that was rebuilt in a different location after 1693. The new town was constructed on the site of an ancient Greek city, demonstrating the history of settlements in the area. Churches in Palazzolo that were damaged in the earthquake were rebuilt in the Sicilian Baroque style.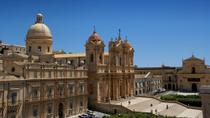 2 Reviews
Get to know Sicily's deep southeast on a day trip to Noto and Marzamemi from Taormina! After exploring the town of Noto with a local host and admiring its ... Read more
Location: Taormina, Italy
Duration: 9 hours (approx.)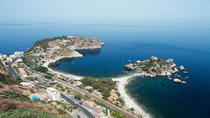 Enjoy a full-day private shore excursion from the Taormina port to Sicily's beautiful Cyclops Riviera, encompassing the fishing villages of Catania and ... Read more
Location: Taormina, Italy
Duration: 9 hours (approx.)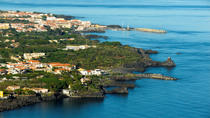 Enjoy a full-day private shore excursion from the Messina port to the picturesque Cyclops Riviera, encompassing the Sicilian fishing villages of Catania and ... Read more
Location: Messina, Italy
Duration: 9 hours (approx.)