While Sicily is very much part of modern Italy, it retains its own identity in many ways. The island, the largest in the Mediterranean, absolutely warrants two weeks of its own during an Italy trip. Of course, most travelers don't want to spend their whole two-week vacation in Sicily alone, especially when it's so far away from the other places on their must-see list.

So, when you get beyond the list of destinations every first-time visitor to Italy needs to see and you're prepared to spend some time in the south, a trip that keeps you on the island for two weeks - or more - is highly recommended.

Rather than script out a two-week trip, here are suggestions for the various cities and sights you should consider including in your trip. Put the ones you like best together, put them in an order that makes sense for your arrival and departure points, add a cushion of a travel day in between the ones spaced further apart, and - voila! – you've just created your custom Sicily itinerary.

Palermo
As Sicily's largest city and capital, Palermo is a must. Concentrate your visit on the historic center, visiting the many ornately-decorated churches and bustling markets. Sample Sicilian cuisine in the restaurants and pastry shops, but don't miss out on the city's famous street food. Get out of the historic center to check out the Capuchin Catacombs, the town of Monreale and the nearby Aeolian Islands. Spend at least three days in Palermo.

Catania
Catania sits at the foot of Mount Etna, Sicily's nearly-constantly-active volcano, and is Sicily's second-largest city. While Catania is still a busy commercial port city, it also has historic sights worth checking out. You can see the main attractions in Catania in a well-organized day, but if you want to spend a day exploring Mount Etna you might want to stay another night.

Mount Etna
Mount Etna is Europe's tallest active volcano and one of the most active on earth. There are organized tours from nearby cities like Catania and Taormina, or you can hire a private guide; either way, you'll want a guide, as much of the mountain is off-limits without one. A hike on Mount Etna can be as long or short as you want, but set aside at least a half-day for a visit from a base nearby.

Baroque Towns of the Val di Noto
Eight towns in the Val di Noto are on UNESCO's World Heritage Sites list for their excellent examples of Sicilian Baroque architecture. Of particular note are the towns of Noto, Ragusa and Catania. You can visit these in a meandering day trip from a base in Catania, if you prefer to avoid hotel-hopping too much, or you can enjoy each of these towns on a relaxing overnight stay.

Taormina
The beach town of Taormina has been a popular vacation spot since the 19th century, with good reason. The city's hilltop 7th century BCE Greek theatre alone is worth a visit, with its historic significance and fantastic views of the coast below. Spend a day exploring Taormina, longer if you want to log some serious beach hours - but if you prefer to spend less on a hotel then consider Taormina a day trip destination and nothing more.

Syracuse
Syracuse is another Sicilian city with both Greek and Roman ruins to explore - the entire city is a UNESCO World Heritage Site - as well as beaches and outdoor activities. Just outside the city, the Necropolis of Pantalica is an ancient burial ground with tombs dating back to the 13th century BCE. Syracuse makes a good base for exploring nearby sights like Catania and Mount Etna, as well as the Baroque hill towns of Noto and Ragusa - so spend at least two days exploring Syracuse, adding more time if you want to make day trips from this base.

Agrigento
Agrigento is on Sicily's southern coast, and while it requires a rental car to get to (and it's well off the main highways), it's worth adding this relatively remote city to your itinerary. Use Agrigento as a base from which to explore the nearby Valley of the Temples (an UNESCO site), which boasts some of the best-preserved Greek temples anywhere. Agrigento was once one of the most powerful cities on earth, so spend a couple of days in the Valley of the Temples, and keep in mind that it'll take longer to get to and from Agrigento than the cities on the eastern coast of the island.

Western Sicily
Sicily forms a point on its western coast, and there are a several places here worth visiting. The city of Marsala is famous for its fortified wine, but the stuff that's consumed locally can be quite different than what they export. Trapani is a historic port city and a jumping-off point for visiting the nearby Aegadian Islands. Overlooking Trapani is the hilltop town of Erice, offering visitors incredible views of western Sicily. Segesta boasts not just a historic Greek theatre, but one that's still in operation today. If you plan to spend 4-5 days driving aimlessly through this area, you'll thank yourself later.

Cefalù
While Cefalù may look like a small town, it triples in size each summer with vacationers seeking out its fabulous beaches. Should you want to be among the sun worshippers, book well in advance and kick back for a few days. If you just want to see the town's historic sights, Cefalù makes a good day trip from nearby Palermo.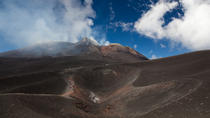 113 Reviews
Visit Sicily's famously fiery volcano, the magnificent Mount Etna, on a day trip from Taormina. Listed as a UNESCO World Heritage Site, Mount Etna is Europe's ... Read more
Location: Taormina, Italy
Duration: 8 hours (approx.)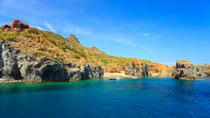 106 Reviews
Explore the volcanic islands of Panarea and Stromboli in the UNESCO-listed Aeolian Archipelago, on a day trip from Taormina. After traveling by motorboat to ... Read more
Location: Taormina, Italy
Duration: 13 hours (approx.)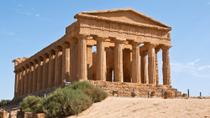 80 Reviews
Explore two of Sicily's top UNESCO World Heritage Sites – Valley of the Temples and Villa Romana del Casale – on a day trip from Taormina, led by a local ... Read more
Location: Taormina, Italy
Duration: 12 hours (approx.)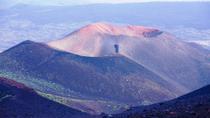 51 Reviews
Leave Taormina and ride around Mount Etna by 1950s-era train on the Circumetnea Railway! This exciting day trip also includes trips to the rock pools and ... Read more
Location: Taormina, Italy
Duration: 10 hours (approx.)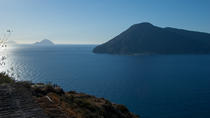 44 Reviews
Discover Lipari and Vulcano, two must-visit islands in the stunning UNESCO-listed Aeolian Archipelago. The chain of tiny islands boasts dramatic volcanic ... Read more
Location: Taormina, Italy
Duration: 11 hours (approx.)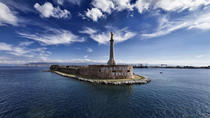 5 Reviews
While you're in port in Messina, take a full-day private shore excursion to Taormina and Mt Etna. Take in scenic views as your private driver takes you along ... Read more
Location: Messina, Italy
Duration: 9 hours (approx.)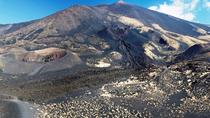 6 Reviews
Combine free time in the foothills of Mount Etna with a visit to Alcantara Gorges and the medieval town of Randazzo! After leaving Taormina, explore the rock ... Read more
Location: Taormina, Italy
Duration: 8 hours (approx.)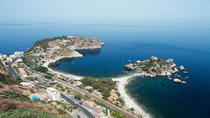 Enjoy a full-day private shore excursion from the Taormina port to Sicily's beautiful Cyclops Riviera, encompassing the fishing villages of Catania and ... Read more
Location: Taormina, Italy
Duration: 9 hours (approx.)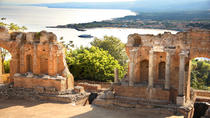 While you're in port in Taormina, your private driver will chauffeur you along the fabulous Sicilian coast to discover Taormina and Mt Etna. On this full-day ... Read more
Location: Taormina, Italy
Duration: 9 hours (approx.)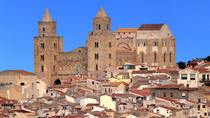 When your cruise ship docks at the port of Palermo, your private driver will pick you up to chauffeur you along the picturesque Sicilian coast. On this ... Read more
Location: Palermo, Italy
Duration: 9 hours (approx.)