The complex, sour, spicy and sweet flavors of Thai and Vietnamese cuisine may be the rock stars of Southeast Asian food, but the Khmer dishes slung at Siem Reap food stalls and crafted over the coals of local restaurants are certainly worth sampling.
Hungry locals rise and shine with hearty portions of bai sach shrouk. This traditional pork and rice dish blends thinly sliced pork with coconut milk, ginger, pickled cucumbers and daikon. It's served steaming hot at nearly every street corner with a small side of savory chicken broth.
In a region that's famous for curry, Khmer red curry is a must-try. This less-spicy cousin of Thai curry is usually served on special occasions, and it's perfect for travelers who love the rich coconut and spices of traditional curry but without the serious kick of heat. The thick saucy stew usually includes chicken, beef or fish, and it's served with crusty loaves of bread rather than piles of rice—a nod to the French colonial times.
Pho lovers can tuck into piping hot bowls of nom bahn chok—popular Khmer noodles made from hand-pounded rice. Like bai sach shrouk, this dish is most often served at breakfast, but travelers to Cambodia will find street chefs whipping up bowls of this popular dish any time of day. Fresh mint leaves, crunchy bean sprouts, banana flower and spices are sprinkled across the fish-based green curry broth, giving a fresh flavor to this Khmer favorite.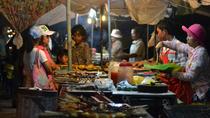 58 Reviews
Taste the best of Siem Reap's street food on a 3-hour night tour! Hop on a remork-moto (a motorized rickshaw) and ride off the beaten path to explore Cambodian ... Read more
Location: Siem Reap, Cambodia
Duration: 3 hours (approx.)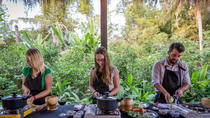 36 Reviews
Learn the secrets of authentic Cambodian cuisine with local chefs in this half-day cooking class departing from Siem Reap. Head to a rural village for an ... Read more
Location: Krong Siem Reap, Cambodia
Duration: 3 hours (approx.)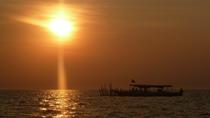 7 Reviews
Visit lotus fields and a crocodile and fish farm on your way to the famous Queen Tara in the floating villages. Enjoy a delicious meal, relax on the viewing ... Read more
Location: Krong Siem Reap, Cambodia
Duration: 4 hours (approx.)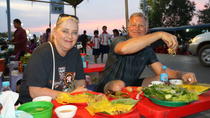 3 Reviews
Visit a local fruit market and navigate the alleyways of a bustling market. Explore the stalls and bright lights at Siem Reap's largest local picnic spot. Hear ... Read more
Location: Krong Siem Reap, Cambodia
Duration: 3 hours (approx.)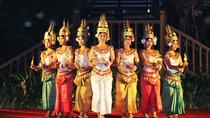 14 Reviews
Enjoy a buffet of traditional Cambodian cuisine and take in a traditional Khmer dance show. Eat wonderful cuisine while you are entertained with this unique ... Read more
Location: Krong Siem Reap, Cambodia
Duration: 90 minutes (approx.)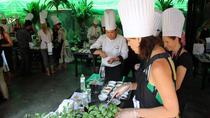 5 Reviews
Khmer cuisine is from one of the oldest cultures in the world. Although influenced from its neighboring countries, it still retains the style, flavor and taste ... Read more
Location: Krong Siem Reap, Cambodia
Duration: 3 hours 30 minutes (approx.)
Your host Sela will pick you up from the hotel and accompany you to the market, only a five minute walk from his home. It is a local open market where Sela ... Read more
Location: Krong Siem Reap, Cambodia
Duration: 5 hours (approx.)
This is a fantastic way to experience local Siem Reap food at night. Join this unique Food Tour in Siem Reap to have the opportunity biting into some tasty ... Read more
Location: Krong Siem Reap, Cambodia
Duration: 5 hours (approx.)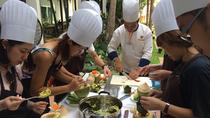 Welcome to The Bong Thom Homestay, a unique community-based tourism site which captures the essence of village life in the heartland of Cambodia. Located ... Read more
Location: Krong Siem Reap, Cambodia
Duration: 4 hours (approx.)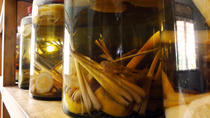 15 Reviews
Come discover the local liqueur of Siem Reap in a typical Khmer house. See how it is prepared in a specially designed workshop, then sits for two months in the ... Read more
Location: Krong Siem Reap, Cambodia
Duration: 60 minutes (approx.)