28 Reviews
Address:

262 Pasir Panjang Road, Singapore 118628

Hours:

9am-7pm

Admission:

Free
Haw Par Villa
Haw Par Villa is undoubtedly one of the most unique attractions in Singapore. Located along the Pasir Panjang Road, this mythological theme park contains over 1,000 statues and 150 dioramas depicting Buddhist, Taoist and Confucian history and folklore.
Built in traditional Chinese architectural styles in 1937 by brothers Aw Boon Haw and Aw Boon Par (famous for inventing the popular Tiger Balm), Haw Par Villa was intended to serve as a place to teach traditional Chinese values. As Singapore became more modern over the years, however, the theme park gradually became more of an attraction for curious tourists than for parents teaching their children right from wrong.
Haw Par Villa is divided into various sections. From the "Eight Immortals" to the "Pond of Legacy," the exhibits at Haw Par Villa are diverse, fascinating – and often baffling. Perhaps the main attraction at Haw Par Villa is the "10 Courts of Hell" section, which is reached via an enclosed, dimly-lit tunnel. It presents, in gruesome detail, a tableau of the tortures and punishments issued for various sins and crimes committed. Not for the faint-hearted, various dioramas here depict such things as tax dodgers being pounded by a stone mallet and a demon throwing a young girl into a hill of knives.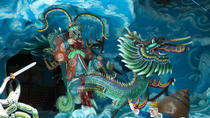 Take an unforgettable guided 2.5-hour walk through the otherworldly landscape of Haw Par Villa (aka Tiger Balm Garden), a Chinese mythology theme park in ... Read more
Location: Singapore, Singapore
Duration: 2 hours 30 minutes (approx.)