Singapore is one of the great transport hubs of the world, with a major passenger and freight sea port and an airport servicing some quarter of a million flights per year to destinations all over the world. However if you want to leave the island by road, your first port of call will always be the same: the Malaysian city of Johore Bahru.

Both its proximity to prosperous Singapore and its own booming industries make Johore Bahru a fast-growing and dynamic frontier city, focus of a metropolitan area second only to the capital, Kuala Lumpur. "JB", as it is known locally, is connected to Singapore by a causeway across the Straits of Johor so there's no excuse not to pay at least a quick visit. And while the lovingly restored colonial relics, gleaming malls and spotless streets of Singapore have their own appeal, you might find the "real Southeast Asia" of JB more to your liking.

While you can find some hi-tech consumer goods cheaper here than in Singapore, shopping for traditional Malay handicrafts makes a pleasant change of pace. You can even see how they're made, with demonstrations of batik fabric painting. A little harder to take home but well worth seeking out is "hawker" cuisine – delicious, spicy snack foods sold in the markets.

Get more insight into Malaysian culture and history at the Sultan Abu Bakar Mosque as well as the Royal Mausoleum, resting place of the sultans who have long made this area a power center. Just like Malaysia as a whole, JB harmoniously brings together different cultures and religions. Malays and ethnic Chinese form the two largest groups, with Indians representing a significant minority. So don't be surprised if you see a mosque alongside a Chinese temple next to a Sikh shrine, opposite a Roman Catholic church.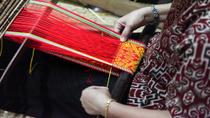 3 Reviews
The private guided Johore Bahru Malaysia Half-Day Tour from Singapore starts with a visit to a handicraft center to observe batik painting. This is followed ... Read more
Location: Singapore, Singapore
Duration: 7 hours (approx.)