For those visiting Skagway, there are a number of scenic rail journeys worth taking. If you only have time for one rail tour make it the Bennett Train Journey on the White Pass Rail, which allows you to enjoy the beauty of both the Alaskan and Canadian wilderness. After boarding a replica Gold Rush-era train you'll make your way along the White Pass and Yukon Route Railway, an International Historic Civil Engineering Landmark. The narrow gauge railroad was built in 1898 during the Klondike Gold Rush, and climbs about 3,000 feet (914 meters) in 20 miles (32 kilometers) and features 16-degree turns for a historical and adventurous ride. From your seat in a vintage parlor car you'll enjoy views of glaciers, mountains, gorges, waterfalls, tunnels, rivers, plains and untouched landscape. Along the way to Carcross in Yukon, you'll stop at the restored 1900s Bennett Station House, Matthew Watson General Store (the oldest operating store in the Yukon Territory) and Emerald Lake.

Another great rail journey from Skagway -- also on the White Pass and Yukon Route Railway -- is the White Pass Summit Excursion. The journey takes you to the summit of White Pass which has a 2,865 foot (873 meters) elevation. Just like the previously-mentioned journey you'll take in pristine wilderness views, with some natural sights along the way including Bridal Veil Falls, Inspiration Point, Dead Horse Gulch and the original Klondike Trail of '98 worn into the rocks. The rail journey is about three to three-and-a-half hours round-trip and is narrated to give you a better understanding of your surroundings.

From Skagway you can also take a ride on a steam locomotive through the White Pass and Yukon Route Railway. Board Engine No. 73 or No. 69, venturing beyond White Pass Summit to Fraser Meadows and climbing about 3,000 feet (914 meters) in 26 miles (45 kilometers), the sound of the locomotive amplifying as it pushes up the incline. Once you hit Fraser Meadows you'll enjoy beautiful meadow scenery dotted with wild flowers.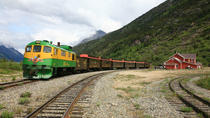 29 Reviews
While in port in Skagway, hop aboard a replica vintage Gold Rush-era train for a scenic journey through the great Alaskan and Canadian wilderness. Traveling ... Read more
Location: Skagway, Alaska
Duration: 8 hours (approx.)