Sorrento Cruise Port
Sorrento perches high on the clifftops and is best known for its shopping, its proximity to the gorgeous Amalfi Coast and also to Pompeii. Sorrento itself has a lovely old town to explore complete with historic churches such as Basilica di Sant'Antonino (patron saint of the sea-faring), and piazzas to sip coffee, watch and be seen. Via San Cesareo is the busy pedestrianized commercial hub, proudly selling high fashion and local produce such as the lemon liquor Limoncello. Down a zigzagging stone staircase is the tiny, relaxed fishing village, Marina Grande, which takes you a few steps back in time.

How to Get to Sorrento
The cruise tender will drop you off at Marina Piccolo and from there it is a short if steep walk into central Sorrento. Alternately there are minibuses or taxis. The main transport hub of Sorrento is Piazza Tasso and from here you can catch buses and trains out of town if you decide to explore the Amalfi Coast or head to Pompeii and Herculaneum.

One Day in Sorrento
Sorrento itself is a pretty town, if quite tourist-oriented. But some of the very best sights of southern Italy are easily reached from Sorrento and highly recommended. Pompeii is world-famous as the town which stopped literally in its tracks when Vesuvius erupted in AD79. Likewise Herculaneum is incredible to see. Both are an easy 30-40 minute train trip away. In the other direction is the Amalfi Coast with its gorgeous towns such as the popular Positano with its pastel cliff-clinging houses and lovely beaches.

Port Information
Sorrento is a tender port so allow a little extra time getting to and from the ship. Once at the cruise tender dock (Marina Piccolo) it's a short, if hilly walk up to central Sorrento. Sorrento is well set up for tourism and most people speak English. The currency is the euro.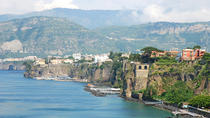 1 Review
When your cruise ship docks in Sorrento, enjoy breathtaking views of the area's beautiful setting on this private shore excursion to Pompeii, Positano and ... Read more
Location: Sorrento, Italy
Duration: 9 hours (approx.)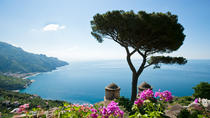 1 Review
The beautiful beaches and coastal towns of the Campania region await you on this private shore excursion. While you're in port in Sorrento, head off to explore ... Read more
Location: Sorrento, Italy
Duration: 9 hours (approx.)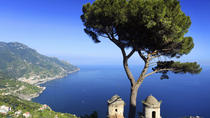 4 Reviews
When you dock in Sorrento, leave your cruise ship behind and embark on a private shore excursion to explore Positano, Amalfi and Ravello. After being picked up ... Read more
Location: Sorrento, Italy
Duration: 9 hours (approx.)