The ancient city of Pompeii, buried in volcanic ash after an epic eruption of Mt. Vesuvius, is a UNESCO World Heritage Site and one of Europe's most visited archaeological treasures. Today the compelling sight makes a popular day trip from Italy's Amalfi Coast. Here are some tour options from Sorrento.
Half-Day Tours 
With limited time, a half-day Pompeii tour from Sorrento allows you to take in all the highlights on a walking tour. Accompanied by an expert guide, hear how the Roman city's ruins were so magnificently preserved, then learn more about Roman life as you see the Forum, the Thermal Baths, and the Teatro Grande amphitheater. To maximize your time, opt for a tour that includes hotel pickup and entrance fees.
Full-Day Tours 
Full-day tours from Sorrento mean you can combine a Pompeii tour or shore excursion with a visit to the UNESCO-listed ruins of Herculaneum and enjoy free time to explore each site independently. Other possibilities include sightseeing along the Amalfi Coast, a stop in the seafront town of Positano, or an afternoon cruise out to the island of Capri. Some full-day tours also include extras such as hotel pickup, skip-the-line entrance, or a delicious Italian-style lunch. 
Things to Know 
Pompeii is located about 16 miles (25 kilometers) northeast of Sorrento. 

It's about a 45-minute drive or 20-minute train ride to reach Pompeii from Sorrento.

Day tours from Sorrento typically last around eight hours, and many tours include hotel pickup and round-trip transportation by bus. 

Wear comfortable shoes suitable for uneven terrain. If you're visiting Pompeii in summer, be sure to wear sun protection and drink plenty of water—there is little shade at the archaeological site.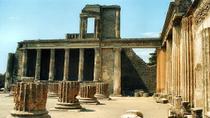 387 Reviews
No visit to southern Italy would be complete without a visit to the unique ruins of Pompeii, and this tour is perfect if you're short of time. Explore the ... Read more
Location: Sorrento, Italy
Duration: 4 hours (approx.)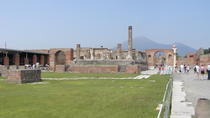 124 Reviews
Visit the fascinating archeological ruins of Pompeii and Herculaneum on this leisurely paced day trip from Sorrento. Hear about the infamous eruption of Mt ... Read more
Location: Sorrento, Italy
Duration: 8 hours (approx.)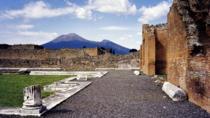 76 Reviews
Guided tour with licensed guide to discover the Romans remaining in the archaeological site of Pompeii and climb till the crater's edge of the famous Volcano ... Read more
Location: Sorrento, Italy
Duration: 8 hours (approx.)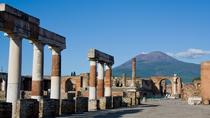 52 Reviews
Explore remains of the Roman town of Pompeii and climb the mountain that destroyed it. Stare into the volcanic crater of Mt. Vesuvius, and get panoramic views ... Read more
Location: Sorrento, Italy
Duration: 8 hours (approx.)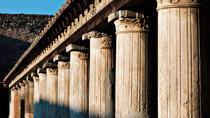 10 Reviews
Join this group tour by bus from Sorrento to Pompeii and Vesuvius. Visit the archaeological ruins of Pompeii together with a guide and free time to climb up to ... Read more
Location: Sorrento, Italy
Duration: 8 hours (approx.)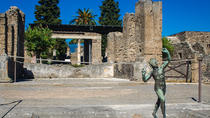 1 Review
Spend the day visiting the ruins of Pompeii and Herculaneum.
Location: Sorrento, Italy
Duration: 7 hours (approx.)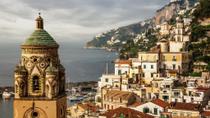 36 Reviews
Experience two of southern Italy's UNESCO World Heritage sites on a day trip from Sorrento. Travel by air-conditioned coach to the spectacular Amalfi Coast and ... Read more
Location: Sorrento, Italy
Duration: 8 hours (approx.)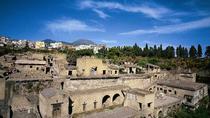 12 Reviews
If you are a history lover, you cannot miss a full day excursion to discover the archaeological cities of Pompeii & Herculaneum escorted by a ... Read more
Location: Sorrento, Italy
Duration: 8 hours (approx.)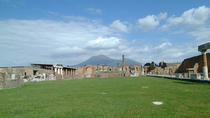 12 Reviews
Travel from Sorrento to Pompeii and, after a drive of approximately 45 minutes, arrive at the entrance of the site where your guide will wait while customers ... Read more
Location: Sorrento, Italy
Duration: 4 hours (approx.)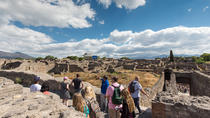 On this all inclusive tour from Sorrento with special skip the line access, explore the captivating ruins of Pompeii to uncover the secrets of this Roman port ... Read more
Location: Sorrento, Italy
Duration: 6 hours 45 minutes (approx.)