Sorrento's location between the busy (and huge) city of Naples and the tranquil Amalfi Coast makes it a popular base from which to explore both. And although the port of Sorrento isn't nearly as large as that of Naples, Sorrento is still a popular stop on many cruise itineraries.

Whether you're staying in Sorrento for a few days before or after you begin a cruise or you're just there for the day during a port of call visit, you'll find there's a great variety of options for things to do and see right in Sorrento - as well as a host of day trips to nearby cities, islands, and attractions.

Most of Sorrento sits atop the cliffs above the harbor, so if you're planning to disembark from your cruise ship and spend the day in Sorrento you'll need to pay for a taxi, walk up the hill, or hop on one of the frequent city buses (the latter is usually the best option). There isn't a long list of must-see attractions in Sorrento, so you can simply enjoy the leisurely pace, great shopping, multi-colored buildings, and (hopefully) gloriously warm sunshine. And if a stop in an Italian city without a visit to an historic monument doesn't feel right, Sorrento has a 14th century cathedral, a 14th century monastery, and some Roman ruins you can check out.

You can also catch a bus to the Amalfi Coast or a train to Naples, Pompeii, or Herculaneum from Sorrento (buses to the coast stop right in front of the train station). If you're taking a bus or train somewhere, just be sure to consult the schedule for the return trip before you leave - that way you'll know when you need to get back in order to re-board the ship.

Of course, you can also go straight from your cruise ship to another of the boats in Sorrento's harbor if you want to take a ferry to Naples, the Amalfi Coast, or one of the nearby islands, thereby eliminating the need to get to the top of the hill before making your next move. Again, make sure you know the ferry schedule for the return trip before you leave Sorrento.

And if you'd rather avoid the hassle of transportation or the worry about returning to the ship in time, there are plenty of shore excursions from Sorrento that you can choose from - including the Amalfi Coast and Pompeii.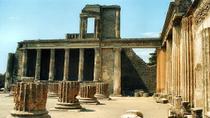 300 Reviews
No visit to southern Italy would be complete without a visit to the unique ruins of Pompeii, and this tour is perfect if you're short of time. Explore the ... Read more
Location: Sorrento, Italy
Duration: 4 hours (approx.)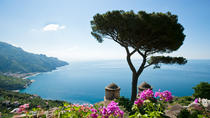 1 Review
The beautiful beaches and coastal towns of the Campania region await you on this private shore excursion. While you're in port in Sorrento, head off to explore ... Read more
Location: Sorrento, Italy
Duration: 9 hours (approx.)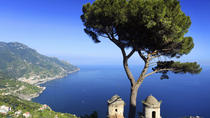 4 Reviews
When you dock in Sorrento, leave your cruise ship behind and embark on a private shore excursion to explore Positano, Amalfi and Ravello. After being picked up ... Read more
Location: Sorrento, Italy
Duration: 9 hours (approx.)